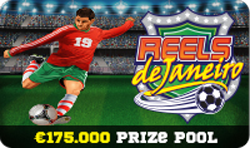 The 2014 Soccer World Cup will kick off in Brazil on the 12th of June – if you're not lucky enough to be attending this world class event, there's no need to feel down because Golden Riviera Casino will be hosting its very own Reels de Janeiro Slot tournament which you can take part in! Best of all it has a massive €175,000 prize pool which will be shared amongst the top 75 players with the 5 champions walking away with €10,000 each!
The tournament will played on the action packed Shoot! 5 reel, 50 payline video slot that allows players to relive the golden age of soccer in the times of the football great Maradona. The game is not only graphically superb but offers a multi-level bonus feature which is triggered when you find special tokens and rewarded with random prizes and up to 35 Free Spins!
The Reels de Janeiro slots tournament will commence at 00:00 (GMT +1) on the 12th of June 2014 and finish on the 31st of July 2014 at 22:00 (GMT +1). For a small initial buy-in of just €10 you will receive 15 minutes of play time on the reels (or 50 spins) and you will also have access to 500 re-buys for just €20 each. 5 add-ons will also be offered with each re-buy at a rate of €10 each giving you an additional 15 minutes or 30 spins of game time.
According to Golden Riviera Casino's spokesperson Max Stern, the casino staff are putting on their game faces and getting ready for football mania. The tournament has been designed to add to the excitement of the real world cup in Rio while giving players the opportunity to take part in their own football themed tournaments with the possibility of becoming champions in their own right.
So if you've new to online casinos or have simply never played at Golden Riviera, there has never been a better time to do so. Play now!