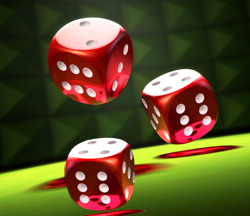 Sic Bo, also known as hi-lo or Big and Small is a casino game of Chinese origin that is very popular in casinos throughout Asia and Macau but also generally found in most land based casinos across the globe in the "Asian Games" rooms or sections as well as at online casinos like Casino Tropez. Grand Hazard and Chuck-a-luck (or birdcage) are the lesser known English variants of the game.
Sic Bo is played with three dice and a table that offers a variety of betting options that must then be fulfilled by the roll of the dice. The game is simple to understand and play and the object of the game is to select either the individual number of a combination thereof that will appear once the dice has been rolled. The payout amounts are indicated on the table with pictures of the many combinations including single die numbers, two of a kind, three of a kind, or combinations of any two or three of the dice.
The house edge on this game ranges from 2% to over 30% and the pay offs range from 1 to 1 to over 150 to 1 depending on the bet and casino.
Click on the links below to learn more about the various aspects of playing Sic Bo: