Game Overview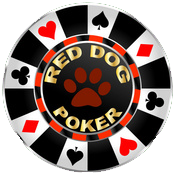 Red Dog or Red Dog Poker (also known as yablon, acey-deucy or in-between) originated as a banking game in which players were able to bet on whether any card in their hand would be of the same suit or higher than a card dealt by the dealer.
The name Red Dog Poker is rather misleading as the game is not a poker variation and is more like Baccarat or Pai Gow than traditional poker.
While the game does make use of playing cards dealt by a dealer, and anyone can place a bet on the hand, there is only one hand in each game and the dealer does not play against the players.
The game has experienced a decline in popularity at land based casinos and is therefore quite rare, although it is more readily available at online casinos like Roxy Palace. To read more about this game, click on the links below: