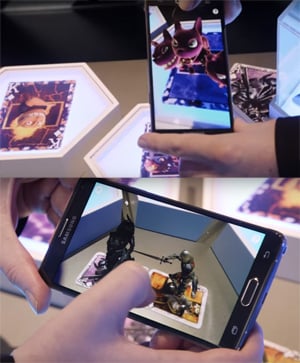 Already online casino developers are experimenting
with Augmented Reality applications for games
If Adam Sellke's latest article is anything to go by, the answer is a resounding yes. Sellke is the founder and CEO of Evolve Labs, an organisation that designs and supplies platforms and products aimed at helping gamers to connect, co-ordinate and play video games.
Of course Sellke and his company are also involved in the eSports vertical, and the article is very much a punt for the pastime (for obvious reasons).
Yet, with a 2 million user database strong, Evolve does have some experience in the field and some of the insights and points raised in the article are valid.
For example, Sellke's point that there is a great need for both land and online casino operators to realise that the Millennial generation (i.e. those born between 1980 and 2000), also known as "Generation Y", have considerably different entertainment requirements than previous generations. As such, he says that casinos need to re-think their traditional marketing and product offers.
While that is not exactly a huge revelation, as every generation does tend to have its own preferences and manufacturers, service providers and marketers have always had to tailor their offerings accordingly, the truth is that thanks to huge technological advancements in recent years, the changes in this generation do happen far more rapidly.
According to Sellke, "Millennial gambling" is not gambling at all, and not about casinos, but rather about eSports and skill based competition. Obviously the casino industry will beg to differ on the first two points but on the latter there is a consensus.
With that in mind, online and mobile casino software developers have already begun to design game content with a considerably more "video game" feel to it, slots that have "skill game" features built into them as well as a variety of social aspects such as in-game and tournament chat rooms, whilst also experimenting with other mediums such as augmented and virtual reality in preparation for catering to a new generations' particular gaming needs.
According to Sellke, games will need to cater to millennials in a few important areas which are not covered in the online casino industry, but are in the eSports arena. Obviously, we beg to differ because what is not yet available is definitely in development from the previews we've seen at various conferences and trade shows in recent years.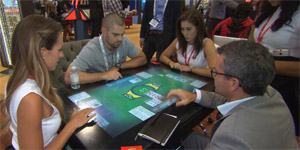 Both land based and online casinos are
re-inventing games to appeal to a new generation
So let's take a look at his points below and discuss how online gambling and casino games may be designed to cater to these requirements in future.
Recognition & Instant Gratification
Millennials enjoy being able to publish their various gaming achievements via social media, player profiles or on leader boards. Competing against the masses or even a small circle of friends and being recognised for their achievements is important to them.
While online casinos have always had "leaderboards" for tournaments, in future we may see leaderboards for all games, not just in a tournament setting. Think of a world where you could see which player has won the most on any given game, or achieved he maximum earnings of his/her free spins, who is the best blackjack player at the casino based on earnings etc.
Casino games may be designed with more "in-game" achievements with prizes for things like "playing 100 bonus games" in a given slot, or getting three flushes in a row in Video Poker. Then imagine sharing all of this to social media. The possibilities are endless.
Balance & Flexibility
Millennials want to play a range of games whenever and wherever they want with only an internet connection.
This is already possible at mobile casinos, but we'll probably see mobile casinos offering different types of skill based games for money in the years to come as the evolution of mobile gambling continues.
Collaboration
According to Sellke, Millennials enjoy collaboration, playing games as a team. While game play at online casinos has generally been an individual pursuit, we may see formats change to allow for team elements. Imagine blackjack tournaments where you could get together with your friends and play through various rounds, but then have your collective score measured against other teams to determine who takes home the grand prize.
It would definitely add an entirely new dimension and social element to online gaming.
Transparency
Sellke maintains that the main attraction of Millennials to the eSports vertical is that the games are played with a common rule set on a "reasonably level" playing field. The games are reliant on skill rather than chance and the best player wins rather than the house.
While traditional casino games will always work in favour of the house, in future we could see casinos offering some games simply for the table fees in order to attract the new generation of clientele. However this is probably less likely than of the other predictions.
Advancement
Millennials want to achieve advancements based on merit. Often success in certain gambling games comes down to luck, rather than skill. That said though, with Millennials in mind we may see an entirely different generation of casino games being developed with this in mind. Think of games like 100 level blackjack where you put your skill to the test to see how far you can advance.
As you can see from the above discussion, rather than becoming a forgotten pastime, gambling as we currently know it will likely undergo some dramatic changes in the decades to come. Games and the way they are played will have to be revised and re-designed to compete in an increasingly competitive market space vying to capture the attention of an entirely new generation.