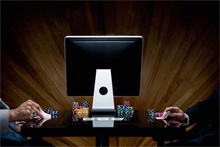 Since the inception of the internet, many new and exciting developments have taken place. One such development was the emergence of online casinos which enabled people with internet access to play casino games in the comfort of their own home from anywhere in the world.
The Gaming Club was the web's first online casino which launched in 1994; it was powered by Microgaming, who was the first online casino software developer. The Gaming Club was later followed by the launch of Intercasino in 1996 and a string of other casinos until the early turn of the century.
At their birth, online casinos were what we would now call "primitive" with very basic landing pages that were devoid of flashy graphics and bonus offers, simply featuring a welcome text with a logo and some basic information as well as a download button. All information, games and player support options were available in English only, unlike today when one can literally choose to enjoy a casino experience in almost every major language on the planet.
Player support was only available via e-mail and toll free telephone numbers, no online chat facilities existed at this time, so unless you phoned in, real time support was just not possible yet.
Fascinatingly, instead of the virtual books that general casino and bonus terms and conditions have become, in the past 5 lines of text sufficed to cover every aspect of the casino's player policy. Can you imagine that? It definitely made things a whole lot quicker and easier for all concerned, but we wonder if people still neglected to read the T&C's!
Where there are now hundreds of casino games to choose from and vast quantities of game variations of every genre, the first online casinos featured one type of each table game and handful (think 3) online slots.
The companies behind the first online casinos were very transparent and their company profile and contact information were clearly displayed. Some even featured the CEO's direct e-mail address! Fancy that happening these days!
There were no industry watch dog sites, very few if any online casino review sites, and no licensing jurisdictions other than the Caribbean.
Over the years though, technology improved and its dissemination increased rapidly, as did that of the online casino industry. Within just a few short years, fierce competition sprang up amongst online casinos which brought bonus offers and increased games offerings into being as casino fought to "stand out" from the crowd to grab their share of what was fast become one of the world's most competitive markets.
Additional software providers emerged and brought with them even more new online casinos and technological developments, forcing increased competition when it came to technological development. This saw games metamorphose overnight from generic offerings to unique, exciting and feature filled visual spectaculars that engaged the player on every level.
Casino Review portals and marketers entered the scene as did casino watchdogs and casino players were able to discuss casino related issues, new games and everything in between on dedicated player forums.
In more recent years, early 2006 saw the legality of online gambling come into question in the US with the passing of UIGEA (Unlawful Internet Gambling Enforcement Act) and the online casino industry shifted its focus to encompass Europe and the rest of the world. Some countries legalised online gambling and regulated it while others, including the US continue to debate the issue.
We have seen the emergence of better, faster, more attractive online casinos, each with bigger bonus and games offerings than the next. With the advent of the smart phone and later tablet devices, mobile gambling was born and we can now play at online casinos from our phones and tablets on the go.
When one considers that all of this has taken place in under 20 years, it is mind boggling to think what the future will hold, but one thing is for sure, this is an industry that never fails to daringly grow, change and invent at the speed of light, so we really can't wait to see what happens next!