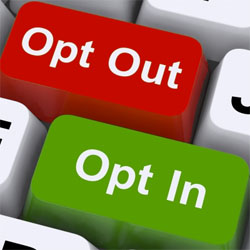 The majority of online casinos automatically add their welcome bonus offer to your account if you make a qualifying deposit when you first sign up at the casino. The majority of new players don't know any better and happily accept the "free money" perk, generally without reading the associated terms and conditions as well as common bonus restrictions which may apply.
They play and perhaps win and when it comes time to cashout they run into issues because they weren't aware of the associated terms and conditions relating to the bonus or promotion and find out that they haven't met the wagering requirements attached to these bonuses. Frustration and anger ensues, especially if it means playing back a portion of winnings that they were hoping to cash out completely.
There have also been a number of players who have recently reported some "strange happenings" at online casinos, where after winning a large jackpot, bonuses were credited to their player accounts and they were prevented from withdrawing their winnings as they "had not met the wagering requirements of the bonus". These cases generally occur due to the fact that bonuses are not credited to player accounts instantly and can take a while to appear, by which time the players in question had already begun to play and not noticed the amounts being added to their accounts while they did so and were then stuck with the attached T&C's.
While we must stress that unfair or rogue bonus practices are very few and far between, as a player it is always best to cover yourself as far as possible to ensure that should anything strange arise, you'll have the correct information to defend your case should it need to be resolved by external bodies such as eCogra.
With that in mind here are a few things that you should do if you decided not to accept the bonus offers offered by a particular online casino.

Contact the Casino Support Team in writing
Before you make your deposit at a casino, read the associated terms and conditions, then contact them to find out if bonuses are automatically credited to your before you start playing. Also it's a good idea to find out how long after you've deposited automatically credited bonuses are added to your account as some take up to an hour and you may start to play without realizing this and then you'll be stuck with bonus and associated wagering requirements to fulfil.
Always contact casino support via e-mail or online chat as these methods allow you to have a written record of your contact with them and request of having the bonus withdrawn.
Should the casino inform you that it is not possible to opt out of a bonus, then look for somewhere else to play as you don't want to be dealing with rogue online casinos who force their offers on you without giving you options.
If you've already made a deposit and it has automatically been credited to your account, you may still request that it be removed as long as you have not commenced game playing using these credits.
If a member of the casino support team phones you to say the bonus has been removed, ask them to confirm this in writing on e-mail. This way you again have proof from their side that your request has been granted.
Take screenshots
Before you start playing, ensure that the bonus credits have been removed from your account and take a screenshot of your opening balance as proof of this.
Once the above "admin" steps have been executed you can enjoy your game play and should any strange issues arise you'll have written and visual proof to help resolve the issue. While this may seem like a hassle and cause delays, it's better to go through the process if you really don't want the bonus than to be stuck with wagering requirements that aren't acceptable to you.