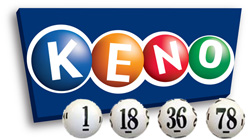 Keno is an interesting casino game that originated in China and draws both fascination and intimidation in those who aren't accustomed to playing it, but it is much easier to play than one may think.
In essence Keno is similar to a lottery game that requires players to make a selection from a card with 80 numbers on it (1 to 80). The game then takes place on a keno table which features a circular glass tank known as a "bubble" to hold 80 numbered balls, 20 of which are then drawn to reveal the games result. Keno at online casinos like Royal Vegas works in the same way except that the balls are drawn by a random number generator and displayed.
Players are then paid out according to the game's paytable and the number of correct number they selected. A wide number of variations exist when it comes to paytables and the house edge that each game carries from casino to casino. Generally the house edge ranges between 4% and 35% in this game depending on the casino.