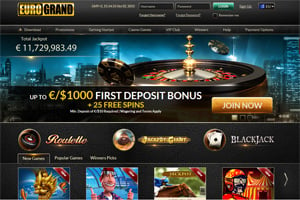 Online Casino Games offer better odds
Play at EuroGrand Casino now!
Most online casino players' dream of achieving that life-changing win, in fact, it's the leading motivator for us to play. The problem is that winning that big usually requires substantial risk and when confronted with that reality, not everyone is interested in playing what it takes and many prefer a safer, more enjoyable approach to gambling.
As most people know, the house always has an edge in gambling, so even though some games have better odds than others, over the long term you'll lose more than you win. It is therefore practical to approach gambling as entertainment and to attempt to minimize your losses as far as possible. This may mean sacrificing the potential to earn that "big win" but at least you'll enjoy solid game play time at the casino and this is the best way to ultimately increase your chances of winning more often. To do this you must be aware of all of the factors that can affect your winning potential at casinos.
If you're someone that enjoys a more risky approach and placing a few high risk wagers in the hope that they'll pay off, there's nothing wrong with that as long as you manage your bankroll responsibly and realize that this approach will not always make your money last unless you get lucky.
However, if you're on a tight budget or are just interested in getting more entertainment for your money, there are a few things that you can do to stretch your money at online casinos. Here are our top tips to achieve this goal…
Select your game wisely
All online casino games carry a house edge, but some games have better odds than others. Even when you play slots which have higher house advantages, you'll find that some machines offer better payouts than others. This can make all the difference in the world to your bankroll and generally give you far more game play time.
If you don't have a specific preference and simply want to play the game with the best odds, blackjack and video poker are the best choices because strategic game play in both of these games can lower the house edge quite significantly.
Certain games like Craps and Roulette have specific bets that carry lower house advantages than others so if you decide to play these games, do your homework and then bet on these options only.
Even when you decide on a specific game, it is important to be mindful of the variant you choose in the overall game genre. For instance, online casinos offer a huge variety of blackjack games, all with different rules. These rules can either work for or against you as a blackjack player, so be sure to research the variant you want to play and how the rules will affect the payouts as this can have serious consequences for your bankroll.
That said, avoid Keno and American roulette at all costs as these games do not offer good odds for players at all.
Play Lower Stakes
If you are looking to enjoy more game play time, once you've chosen a game with good odds, simply play the lower limit bets. This will help you to counter any variance you may experience.
The great thing about online casinos is that they generally offer lower stakes than their land based counterparts, offering game play for all budgets.
Learn the Right Strategies and Practice for free!
As mentioned earlier, games like blackjack and video poker can be played according to basic strategy which will lower the house edge and give you a better chance of winning. It is important to learn the rules of the games you play and where possible the perfect strategy for these in order to extend your game play time.
A great thing about online casinos is that they offer players a "free play" mode where you will be able to play for free and practice your moves before ever staking a cent. Doing so not only gives you game play time for free, but means that you are less likely to make costly mistakes when betting your own real money.
Take advantage of rewards
Online casinos offer a variety of incentives to players, from bonuses and promotions to loyalty points for ongoing game play, which definitely make your loyalty to a specific casino worthwhile. The more you play, the more points you accumulate and you can then use them to add to your bankroll and extend your game play or occasionally cash them out.
In addition to standard loyalty points programs, the majority of online casinos run a host of promotions or offer specific bonuses as part of their rewards programs. These usually carry terms and conditions with wagering requirements attached. Whether or not you should accept these offers will depend on the terms but if the T&C's are reasonable these bonuses can help to extend your game play time.