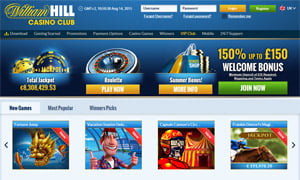 Play High limit slots at William Hill Casino
When selecting a slot game to play, one obviously always wants to choose the game that offers the best possible returns. There are a number of different types of online slots offering players the opportunity to play for as little as a penny or for much larger amounts that equate to hundreds of dollars/euros/pounds per spin.
We are often asked about high limit slots games and whether these are more lucrative than their lower limit counterparts. Here we'll take a look at the characteristics of high limit slots, what to look for when selecting one and whether or not it really pays you to play them.
What are High Limit Slots?
If you've never played or heard of high limit slots you may be wondering what these games are all about. Basically they are regular slots and can be found in many of the traditional classic, video and progressive slot formats that you usually enjoy, the only difference is that high limit variants allow you to play for higher stakes. This means that you can bet hundreds of dollars/euros/pounds with every spin. Obviously the higher stakes put you in line for significantly larger payouts, this is especially true when it comes to playing progressive slot machines.
What to look for in a high limit slot
If you're a casino high roller or are trying to become one and your budget allows for you to play high limit slots, then always choose a machine whose format you enjoy playing, then look at the denominations, paylines and special features that it offers to see if it meets your needs. Some slots have betting limits with very wide ranges, allowing you to bet as little as a few cents per payline and upwards to around $100 or more.
If you're not a serious high roller then have a look at the upper limit of the game to ascertain whether or not you're willing to spend that amount per spin (you don't have to obviously but the point of high limit slots is playing on the upper end of the limit. When deciding on this bear in mind that most players play around 600 spins per hour – so you need to be able to afford the denomination you choose or you'll end up having to cut your game play short or lower your stakes if you want to play for a longer period.
Are these slots popular?
High limit slots are popular games but they do not attract the majority of players like their lower limit counterparts do, largely due to the fact that most players budgets don't accommodate playing hundreds of coins per spin. However if you're a high roller and can afford to play high limit games, then these will probably be your go to choices when visiting online casinos.
Either way, what makes these slots so popular is the fact that some players find that the more that is at stake the more exciting they find the game, and these types of slots offer players the opportunity to win larger amounts than they could on other slots, making them more lucrative and worth the risk.
Why Place Such Big Bets?
As mentioned above for some players the opportunity to risk a lot and the potential for larger rewards makes playing high limit slots exciting and worthwhile. The thing to remember is that you will be spending more but if you do end up winning the jackpot can be life-changing, especially when you're playing progressive slots.
High Limit Slots have the potential for larger payouts
If you're new to high stakes games you may be surprised to find that you can often see results immediately. It is also interesting to note that high limit slots do behave differently to those with regular limits in that they payout more often which means that when you're playing high stakes games even though you're spending more you tend to win more along the way, and these wins are larger than on standard games.
However, these games are generally also more volatile which means that you'll need a bankroll that can sustain the up and more importantly the downswings during the game. It is important to apply proper bankroll management strategy in your game play and to be aware of the fact that the house always has the edge in slots games over the long term, so make sure that you know when to play and when to quit in order to be a successful slots high roller.