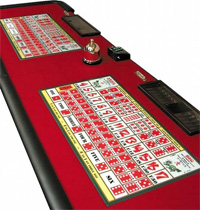 As mentioned in the overview of the game, Sic Bo is a relatively easy game to understand and play. Unlike other casino games, it is not necessary to learn any complex strategies in order to play successfully. All you have to do is place your bet on your chosen area of the table and the dice will then be rolled in order to ascertain the outcome.
Sic Bo table layouts, images and graphics may vary slightly from one casino to another but the betting areas are usually clearly marked so that you can't make a mistake. In order to make a wager, you place a bet on the spot/s where the projected outcome appears (kind of like in Roulette where you think the ball will be on 18 at the stop of the wheel). You can read more about the possible Sic Bo betting options here.
After placing your bet, the dice will be rolled and the winning table areas light up and winnings are paid out according the pay table. Losing bets will removed from the table by the dealer and the next round begins.
Here is a quick step-by-step explanation on how the game proceeds:
Check the betting limits for the table
Purchase chips
Place a bet on a selected area (or bets, you may place multiple bets)
Wait for the dice to be rolled and winning sections to be displayed
Collect any winnings owed to you
Return to Step 2 if necessary
Playing Online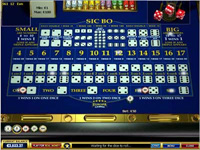 Playing Sic Bo at an online casino follows the same steps as mentioned above. Table layouts and rules are the same as in brick and mortar venues although odds can be much more favourable. Another advantage to playing Sic Bo online is that you can practice for free before risking your hard earned money.
In the online version of the game, to place a bet you simply select the value of your bet and click on the specific area of the table where you want that bet to be placed. Everything else happens automatically and winnings are credited to your account.