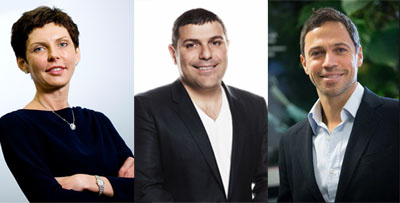 Online Gambling Tech Billionaires
Denise Coates, Teddy Sagi & Mark Scheinberg
Each year, Forbes releases a variety of "rich lists" and this year's "100 Richest Tech Billionaires from around the Globe". Forbes uses the latest stock prices to put the list together and it is interesting to note that they chose to exclude telecom and media in the definition of technology when compiling the list.
This Tech Billionaires list therefore includes people who are active in technological fields of hardware, software, online gambling, social media and high-tech manufacturing.
From the above definition it's no wonder then that the list features some familiar names in the online gambling world. Here we'll take a look at who made the list.
Denise Coastes of Bet365 comes in at number 71 on the list with her $2.9 billion fortune and also came in at number 737 on the World's Billionaire's rankings. Interestingly she is one of only seven women who made the list this year and her brother John Coates who holds a smaller interest in the company is also a billionaire in his own right but didn't make the list.
51st place on the list is occupied by Playtech's founder 43 year old Teddy Sagi with an estimated net worth of $3.8 billion.
And in 46th place is Mark Scheinberg of Poker Stars and Full Tilt fame with a fortune of $4.1 billion to his name.
While these figures are pretty impressive, the online gambling tech millionaires are still a way off from the top of the list, which is topped of course by Bill Gates and his mind-blowing $79.6 billion fortune. Yet it still goes to show that the online gambling world is a rewarding one for more than just the jackpot winners we've seen in recent months.