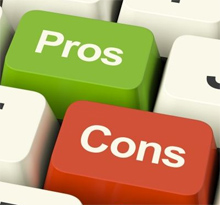 One of the major attractions to gambling online instead of at a land based venue is that all online casinos offer new players "free money" in the form of sign up or welcome bonuses. In fact, it seems that the more you look around online the bigger these bonuses seem to get and they appear in many shapes and forms from no deposit to match deposit bonuses, with the latter being more common and often spread across up to three or four of your initial deposits at the casino.
As exciting as the potential to receive free money to play with is, there is more to consider when deciding on whether or not to take advantage of these offers than you may realise. Here we take a look at the pros and cons of online casino welcome bonuses so that you can make an informed decision as to whether or not you really want to accept these.
Pros
You can get free money
The most obvious reason for signing up and depositing at a casino is to receive their advertised welcome bonus which is a form of "free money" that casinos give to you from the start. You are able to play with this money and provided you meet the wagering requirements stated in the bonus terms and conditions, any money earned from playing is yours to keep.
You'll be playing casino games anyway
If you make the decision to play at an online casino, you'll be making a deposit and playing casino games anyway, so why not claim the match deposit bonus and enjoy the extra game play potential. If you manage your bankroll well you'll be able to fulfil the wagering requirements of the bonus and enjoy the free money benefits without risking all of your own money.
You are able to play higher stakes than usual
When you receive a deposit bonus you are effectively playing with the online casinos money, this means that you can play at higher stakes and take bigger chances than you would with your own money. Bigger risks have the potential for greater rewards and even if you lose, you are not effectively losing any of your own casino bankroll. This can make game play very exciting and potentially financially rewarding too.
Cons
Bonuses are subject to Wagering Requirements
While bonus money is termed "free money" it is not altogether free, it is subject to wagering requirements, also known as play through requirements which are stipulated in the accompanying terms and conditions. These requirements can vary vastly from one casino to another and may be subject to anything from a 10x the bonus to 50x the bonus plus your deposit. It is therefore important to read the associated terms and conditions and to find a casino that offers reasonable terms. Obviously, the lower the wagering requirement the better.
Most online casinos require you to bet 20x the deposit plus bonus, i.e. 40times, so if you deposit $100 and receive a 100% match deposit bonus then you will be required to wager $4000 in total which is not a small amount.
Only certain casino games count towards wagering
When it comes to meeting the wagering requirements of a welcome bonus, casinos weight their games differently and not all games count towards the playthrough requirement. Generally games like slots count 100% towards wagering due to their larger house edge, while certain skill games like Blackjack and Video Poker only count 10%. You need to check on whether or not your favourite games are included in the bonus wagering requirements and if they aren't then you need to decide whether or not you'll be happy accepting the bonus.
Welcome Bonuses expire
Casino bonuses are subject to time limits so you do have to make use of them within the designated period after making a deposit or they will be removed from your account. The bonus term varies from one casino to another and can be anything from 1 to 3 months. You then have to make the decision as to whether or not you will play enough casino games in a designated period to fulfil the requirements.
As you can see from the above there are a number of pros and cons to online casino bonuses and it is really a matter of whether or not you believe there is value in accepting the bonus or not. It really is a personal decision and only one you can make when you have all of the information which you now do.