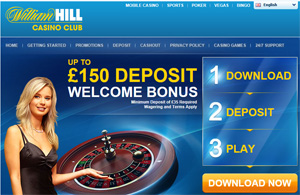 Put these tips to the test at William Hill Casino
For the majority of players, the point of playing at casinos is to have a good time, and of course, to win as much as possible. In order to do so, many players seek out information on whether it's possible to gain a definite edge over the casinos, and if so how to do it.
If you're one of these players, the good news is that it is possible to gain an advantage if you do your research and are prepared to put in the practice it takes to master certain games. This is not something that is easy to achieve so it will take time and dedication on your part, but if you're up to the challenge, we'll take you through the basic principles of how to gain an advantage when gambling at an online casino.
On the most rudimentary level, you'll need to combine three aspects of gambling to gain an overall advantage over the long term:
1. Only play specific skill based casino games like Video Poker or Blackjack with high payout rates.
2. Master the strategy for these games so that you can achieve top payouts and lower the house edge to its minimum.
3. Take advantage of any bonus offering or promotion that has favourable terms and conditions.
Once you put the above-mentioned aspects into play correctly, you'll find that the odds begin to tip in your favour. For example, if you're playing a game of blackjack or video poker that has a 99.5% payout rate, the house advantage will be 0.5%. You should then be on the lookout for a 100% match deposit bonus up to $100, which is cashable once you've fulfilled the wagering requirements. For the sake of example, let's suppose that the play-through requirement for these games is a 100x wagering requirement, this would mean that the total play-through required would be $10,000. If you take 0.5% of that, you'll get $50 which is average amount that you'll lose to the casino during play-through.
This means that you will ultimately spend $50 to get a $100 bonus, but over the long term, you should make a profit of around $50. While this isn't a bad return when playing video poker or blackjack, it's not exactly going to turn you into a professional gambler with a huge hourly earnings rate.
It's important to keep in mind that this approach is more to enjoy real money casino action while maintaining a small edge over the casino, rather than making you mega rich. It just means that you'll consistently win more than you lose and if you apply it often in conjunction with any bonus offers and promotions you come across, then you'll find yourself more up than down and who doesn't want that?