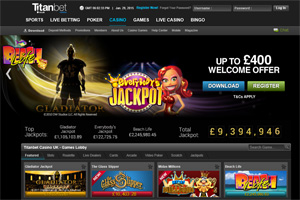 Cashout big wins at Titan Casino
As any online casino players knows, when it comes to withdrawing your money after fulfilling the wagering requirements of a bonus, or after hitting a big win, there is a set procedure that most casinos follow. This entails cashing your winnings out, which then places your funds in a holding pattern until they can be processed and transferred back into your bank account.
This holding pattern is a stark contrast in comparison to the instant gratification that you get at land based casinos when you cashout where you end up walking out with your full winning instantly. For this reason – and to entice players into continuing to play instead of withdrawing their funds, online casinos invented the "Reverse Withdrawal" function whereby you are able to reverse the funds you were going to cashout back into your player account. Interestingly, when you do request a reverse withdrawal, the funds are instantly flushed back into your player account with no waiting period.
As you can probably see, this makes reversing your withdrawals, especially when they are for larger amounts, seem rather tempting. However it can also mean that instead of getting your cash out and into your bank account or e-wallet, you'll inevitably play it back to the casino.
With the advent of casino regulation and licensing agreements in recent years, online casinos have had to adhere to a stricter socially responsible gambling code of ethics which has seen some online casinos allowing players to bypass or at least shorten the withdrawal pending period upon request. So while some online casinos have a 24 to 48 hour withdrawal period, others have cut the time down to 12 hours and others still simply no longer offer the reverse withdrawal option. It all depends where you play and how that property handles these requests and procedures.
While we're all for playing at online casinos and enjoying your game, if you're struggling to fight the urge to reverse your withdrawal and play with abandon, here is a great tip on what you can do to fight the urge to do so…
When cashing out at a casino, especially after a big win, most players tend to want to cashout their full player account balance, not taking into account the fact that they might want to continue playing at some point in the near future. In order to avoid the temptation of reversing this withdrawal mid process, the best thing to do is to keep a comfortable balance in your account to play with while you wait for your withdrawal to be processed. That way you won't be tempted to reverse the whole amount and play it back all at once.
The alternative is to cashout your entire balance and avoid the casino altogether which we all know doesn't happen easily. So rather engage in some foresight and plan ahead – this will save you time and probably a lot of money too.