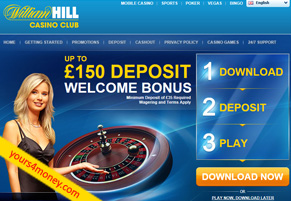 Put these tips to the test at William Hill Casino
If your gambling bankroll seems to disappear before your eyes and you never feel like you get enough game play time at the casinos for your money, then you're not alone. Most players feel that way and are continuously looking for ways to make their casino budgets last longer.
While familiarising yourself with correct game play strategies and gambling mathematics principles goes a long way to improving your game and returns at the casinos, here we take a look at some simpler, common-sense ideas on stretching your money when gambling.
1. View gambling as entertainment
Of course we all want to win at the casinos, but the reality of the matter is that you're more likely to lose, so the main reason you should be gambling is for entertainment purposes and being honest with yourself about this will ensure that you don't ever feel like you have "wasted" your money if you don't win but had a good time anyway.
The best way to achieve this is to view your bankroll as the cost of entertainment and if you manage to keep some of it or earn more than you started with then that is a great bonus, after all, not many forms of entertainment give you the opportunity to have fun and take home more money than you started with.
2. Select your Gambling Bankroll total
When designating the amount of money you'll put into your casino bankroll, always choose it from the money you set aside for entertainment each month. Once that is assigned stick to it and play accordingly. This will mean figuring out how many sessions you would like to enjoy in a month and dividing your budget equally between them.
3. Choose a coin denomination and bet size that fits your budget
The easiest way to stretch your money at the casino is to choose the coin denomination and bet size that not only makes most sense with your current budget but also gives you satisfactory game play for your money. By playing lower coin denominations and bet sizes, you'll not only lose less, but you'll enjoy longer game play time. Then if you win you can either add extra sessions or increase your bet size.
4. Select your casino game wisely
Once you know what denomination to play, you need to select the casino game that you will play wisely. If you're playing slots, try to stick to machines where the top jackpots are fixed and smaller than those of progressive slot machines as these slots generally offer more frequent, smaller wins which will keep your bankroll ticking over. If you prefer to play skill based games like video poker and blackjack, then select your machine or game variant wisely, examine the rules before playing and brush up on your basic strategy so that you can win more of the bets you make.
5. Pace yourself

Take frequent breaks between games and when you do play, consciously slow your game play pace. If you're playing at an online casino, make use of their chat function and take time to connect with people in between games. Not only does this provide you with an enjoyable social aspect, but it helps you to slow your game play.
Another option is to play skill games like blackjack or video poker where you actually have to slow down and think about what you're doing. You'll definitely feel like your casino experience lasts a lot longer if you do these things.
These points may seem quite obvious, but for many of us, common sense flies out of the window when we enter a casino and we end up in an excited frenzy where time seems to fly and when our money is spent we often feel disappointed and cheated that we didn't get enough game play time or that it was over too quickly. By practicing sound casino bankroll management techniques at the casino, you'll avoid these feelings and maximise your enjoyments. After all, that's what it's all about!