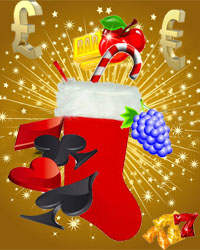 It's that time of the year again…the Festive season and in just a few short weeks Christmas will be here and even sooner will be the Online Casino Christmas bonuses up for grabs…some will be whoppers, others will be incremental increases and some casinos won't offer anything at all, but for the most part, when it comes to playing online, it really is the most wonderful time of the year!
You'll want to be on the lookout for offers similar to those which we've seen in the past including  bonus free spins, extra 25% bonuses on some deposits, and specially programmed slots tournaments with great prizes!  Some casinos offer extra loyalty points which can be redeemed for free money at the casino or physical gifts.  In the past we've received gifts such as cameras, iPods, laptops and even on rare occasion a trip to an exotic location.  If you're very lucky you may even be able to get VIP football tickets, or VIP seats at various prestigious events.  So make sure you check out Casino newsletters and Christmas program schedules on the casino websites regularly so that you don't miss out!
While the opportunities for gain are greater than usual, one does need to exercise caution in a time when you're spending extra cash on travel, holidays and gifts, so extra deposits can leave you high and dry if you're not extra disciplined, so please make sure that you examine your budget carefully before being lured in by the bigger and better offers.  That said, if you're sure you can manage it and not overindulge, then you're sure to enjoy every that the season and our recommended online casinos have to offer.