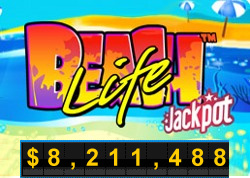 We've been following the ever increasing Beach Life Progressive Jackpot for quite a while now and on the 12th of February 2012 the massive Beach Life Progressive Jackpot totalling $8,211,488 was hit.
While the lucky player and the casino where the jackpot was hit are yet to be revealed, the win definitely occurred and players saw the machine reset to 50,000 coins on Sunday, which we're sure broke many other players hearts.
For those who are interested in the statistics of this progressive slot, this huge win has altered the average payout figures quite dramatically. Over the last five wins the average payout has increased to over 2.6 million credits and the average duration between hits has extended to 163 days. This being said though, the Beach Life Progressive is one of the most erratic jackpots on the web and over the last four years has hit from 200,000 to a whopping 4,200,000 and most recently 8,200,000, so it's still one of the most rewarding slots to play.
So if you're in the mood for some summer fun with an ever increasing jackpot pool, why not play the Beach Life Progressive Slot at your favourite Playtech powered casino like Europa Casino today.