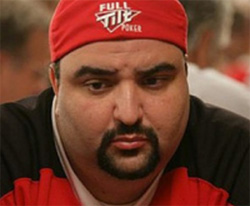 Two years after being charged on five accounts and facing a maximum prison term of 65, online poker tycoon,
Ray Bitar
who operated
Full Tilt Poker
, has abandoned his defense and struck a plea bargain with US prosecutors as he awaits heart transplant surgery in California.
The 41 year old is the second of a possible 11 senior poker execs and payment processor intermediaries to be charged with money laundering, online gambling offences and fraud since the case broke two years ago. Shortly after his indictment, Full Tilt Poker was forced to shut down and all assets were frozen, leaving hundreds of thousands of players across the globe and Full Tilt employees wondering what would happen next.
The fraud and money laundering charges against Bitar however were just the start of Bitar's problems as investigations revealed that he and his co-conspirators had been secretly cleaning out supposedly ring fenced customer accounts who thought that they had safely deposited cash and winnings.
Full Tilt was accused of becoming a "Ponzi scheme" by US attorney Preet Bharara who stated that the company had created a $350 million deficit through its underhanded actions, leaving scores of players empty handed.
In light of this information, a new indictment was issued and Bitar was forced to return to the US in July of 2012 to face the charges. He issued a statement through his attorney stating that he was aware of the fact that many people were angry with him and he could understand why. He also acknowledged that Full Tilt should not have been in a position where it could not refund players money.
Earlier this week, Bitar's lawyer John Baughman confirmed that an unusual plea bargain had been struck due to Bitar's extenuating health issues which see him currently awaiting a heart transplant.
In spite of US laws which made it illegal for banks to process payments to and from US citizens for internet gambling, Full Tilt Poker, along with PokerStars, flouted the rules and continued to accept wagers from the US.
The two poker rooms are said to have used a string of intermediaries who set up fake online retail websites – supposedly selling everything from golf clubs to appliances and clothing, and even offering people a way to settle medical bills, all under the guise of masking deposits into poker accounts.
While attempts were made to prosecute Isle of Man based PokerStars, the company made a deal in July of 2012 and forfeited $547 million to US authorities. Unlike Full Tilt Poker, it continues to trade outside of the US and agreed to rescue Full Tilt, promising to reimburse funds owed to players outside the US to the sum of $184 million. As part of the settlement founder Isai Scheinberg has stepped down as director, and while he is facing three criminal charges in the US, he is said to be at large.