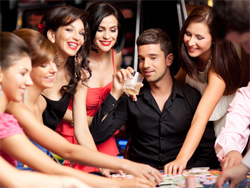 The words "High Roller" conjure up images of rich and famous gamblers who trot around the globe, spend time on their luxury yachts and sip champagne at the Baccarat tables. All of which, let's face it are totally out of most of our league.
While some rich and famous people are gamblers, it is surprising to find out that the majority of high rollers at online casinos are really not rich at all, but are rather part of the middle class who save up to play big and take big risks in an attempt to win their wealth.
This means that if you're prepared to play less often and save your money to make bigger deposits, take bigger risks and place larger wagers then you too have high roller status within your grasp. But is it all worth it? Let's take a look at what it means to be a high roller and you can decide for yourself.
What it means to be a High Roller
High Rollers, also known as whales or big fish generally play casino games at their top limits and as such online casinos want to retain their patronage. This means that they roll out the red carpets in an attempt to gain high rollers loyalty with a number of special, often exclusive offers and benefits such as gifts, special casino bonuses and promotions, exotic holidays and VIP treatments such a personal accounts manager at the casino who deals with all requests and enquiries personally.
How to become a High Roller
If you decide that you would like to become a high roller at a casino, it may take some sacrifice. You may have to save up in order to play. Most high roller welcome bonuses require a deposit of €500 to €1000 and the casino offers a match deposit bonus to a certain percentage.
The great thing is that when you deposit and accept a high roller casino bonus offer, in many instances you will automatically be considered by the casino for VIP status. So it means that you skip having to play continuously for many years in order to be considered.
While VIP status brings you closer to being a high roller, it doesn't make you one. High rollers are spotted by casino immediately when they make a large deposit while VIP's have to play continuously to earn their status and then progress up the levels (the same as with loyalty programs). VIP's do however also receive specialised bonus and promotional offers which help to earn more rewards and cash for future deposits.
Also ensure that you use the casino's loyalty program to accumulate points that you can later convert to casino cash to add to your deposit and game play totals.