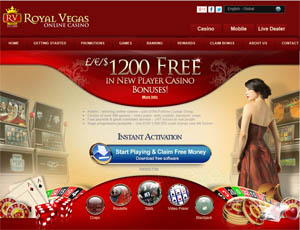 Play Slots at Royal Vegas Casino
If you've been around for a while you've probably heard someone refer to the old slot machines called "one-armed-bandits". The origin of this nickname is rather interesting as it refers both to the design of the machines which had a single lever on the side which had to be pulled to spin the reels but also because players believed that their money went so fast that they were being robbed hence the name bandit.
Over the years throughout the evolution of slots, slot machines have gained somewhat of a bad reputation for being low paying, yet still if you want to make the most out of your online casino bonus offers they are usually the only game that counts 100% towards fulfilling the bonus wagering requirements.
So let's take a look at the reasons for their bad reputation as well as ways that you can offset these as far as possible to make sure that you get more for your money when playing slots.
Playing Speed and the House Advantage
If it feels like your money simply evaporates when playing slots as opposed to any other game it is probably due to the fact that you're playing at a much more rapid rate. After all, there's not too much to do or think about other than spinning the reels and waiting to see if you've won or not. Even if you play at a slower rate you could end up spinning around 360 times per hour which is 5 times more than the number of wagers you'd make on popular table games like Blackjack, Craps and Roulette. Not to mention that these games also have a much lower house edge than slot machines.
Online slots generally carry a house advantage of around 5% or less. This may seem good in comparison to their land based counterparts which have a much heavier 5 to 15% advantage but it is still higher than some other games like blackjack and baccarat or Full Pay Jacks or Better video poker which is the main source of their bad reputation.
Even still, slots are still a better bet than some wagers in games of craps, keno or sic bo and as we've already mentioned, they are the only game that counts 100% towards wagering requirements when taking advantage of free play and free spins casino bonuses, making them a much better option.
Offsetting disadvantages through wise choices and good bankroll management
Slots may carry a higher house advantage but this is often compensated for by weighting in casino bonuses as well as the fact that their prize money and jackpots trump any other casino game.
That said it is still advisable to try and counter the house edge as far as possible by selecting slots with the best payout percentages at coin denominations that are within your budget. Playing online will also lower the house edge as online slots have better payout rates.
Good bankroll management will also go a long way to stretching your time at the machines out and curbing your losses.
Slot don't have to live up to their old nickname "one-armed bandits" if you do your homework, take advantage of free money and bonus offers and manage your bankroll wisely. And who knows, you may just hit that jackpot that you've been dreaming of!