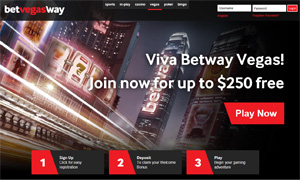 Play casino games at Betway Casino and save!
For years anti online gambling proponents like the Las Vegas Sands Chairman Sheldon Adelson have discouraged players from playing online. We repeatedly hear sound bites like "Click your mouse, lose your house", but is online gaming really as bad as these people make out or do they have their own agenda?
According to the findings of a recent study conducted by Harvard Medical School's Division on Addiction, only a small minority of online players are thought to fall into the "problem gambling" category. So the idea that playing at online casinos encourages problem gambling behaviour is a huge misconception and stating that you could "lose your house" doing so is far more ludicrous.
Statistics aside, online gambling is often a way more cost effective form of entertainment than its land based counterparts and could actually end up saving you money! Here we look at why this is true.
Lower Table Minimums
Unlike brick and mortar casinos where the minimum bet at the tables is generally between $5 and $10, which is quite a hefty sum if you're just starting out, or are on a budget. Online casinos on the other hand offer considerably lower minimums, often at a mere $1 per bet.
This is definitely way more budget friendly over the long run. To illustrate just how cheap this can be, let's look at a quick example. If you play a game of blackjack with a house edge of 0.5% and play 1000 hands which generally takes around 3 hours at $1 per hand, your theoretical loss would translate to a mere $5. A land based game version of the same game at $5 hand would cost you $25. That's quite a difference and illustrates just how much more you'll get for your money when playing online.
The lower table limits are not just restricted to blackjack games but to all other online casino games including Craps, Roulette and Baccarat. And if you play well and are a little lucky you could even end up walking away with some generous sums!
Better Odds on some games
Due to the fact that online casinos are not restricted by floor space allocation they are able to offer a variety of game variations across the board. This means that you can hunt for and select games with the best odds within the genre that you love, this will save you money and ensure maximum returns every time you play.
Cheaper Slots Options
While Penny Slots games are not exclusive to online casinos, all online slots give players the option to wager as little as a penny per spin which is not always the case at land based casinos. While you may need to bet more than a penny to qualify for the maximum payouts, playing slots online are still a far cheaper option.
Comps
While you may earn comps like meals, drinks and concert tickets at land based casinos, online casinos generally involve bonuses, cash back rewards, free spins and free play offers and occasionally certain real world prizes. These types of prizes generally save your own gambling money and mean that you have even more budget to play with.
As you can see from the above discussion, online casinos are definitely a cost effective way to play. With the opportunity to win huge jackpots from the comfort of your own home while spending less, it's no wonder they are a preferred way to play for many across the globe.