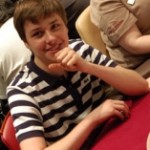 The final table at the APT Macau event was anticipated to be explosive and boy was it ever!
Down to the wire, it was a toss up between Yevgeniy Timoshenko and Joon Hee Yea. Timoshenko had a 9:1 advantage but this was considerably whittled down when the money went in for the final time.
Joon Hee Yea's King of Diamonds and Queen of Diamonds faced off against Timoshenko's Queen of Clubs and Queen of Spades. The flop consisted of an Ace of Diamonds, Jack of Diamonds, and 6 of Clubs. All Joon needed now was any Diamond, a 10 of Diamonds, or a King to lead. The turn was an 8 of Hearts. The crowd almost cheered as they saw the red card being turned over and Timonshenko breathed a deep sigh of relief. It was all up to the river card to decide the fate of the 2 anxious Poker warriors. When the 3 of Hearts was drawn on the river, it was all over and the 20-year old Ukranian native (turned United States citizen) rejoiced in triumph at his $500,000 win and the title of Asian Poker Tour Champion under his belt. It was evidently a disappointment for Joon Hee Yea but he was a true sportsman nonetheless as he took home the $250,000 second prize.
This is Yevgeniy Timoshenko's 2nd First Place finish. His winnings so far total $741,361. Some of his other achievements include a 1st Place finish at the PaddyPower Irish Open in April 2007; a 3rd Place finish at the Rendez Vous a Paris event in May 2007; and another 3rd Place finish at the Poker Pages Ranking Australian 2 Card Manila event at the 2008 Crown Aussie Millions Championship in January of this year.
Next on the agenda for the Asian Poker Tour are APT Seoul and APT Singapore; the dates of which are still to be announced.
While you're waiting for the latest APT announcements, why not head on over to Aspinall's Poker where you can play with a free $10 Poker credit and still qualify for one of their APT satellite tournaments, which include buy-in to the main event, $2,500 towards travelling expenses, $800 spending money, and 9 free nights of hotel accommodations.