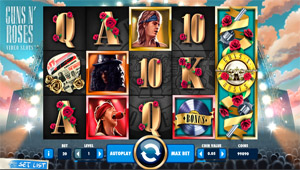 Play NetEnt's Guns N' Roses Slot
While NetEnt has been around for over 20 years, in comparison to software giants like Microgaming and Playtech it hasn't really made much of a name for itself in the online casino world until recent years and the past two years in particular.
In 2015 and 2016 we've seen the company perform like never before, providing state-of-the-art casino games and slots to various casinos using its software. It has also forged a number of big name branded slot licensing deals, releasing the first in the NetEnt Rocks slots trilogy Guns N' Roses earlier this year. Two more titles which include Jimi Hendrix and Motorhead slots are due for release during the course of 2016.
By any standards, NetEnt online and mobile casino games are right up there with the top competitors and are really coming into their own with slick graphics and smooth game play as well as a host of unique features.
The Sweden based organisation also recently signed contracts with casino operators in the US, Spain and UK and will be producing both blackjack and roulette games to add to their slots offering. Earnings have also risen more than 50 percent in 2015 and the company's share price doubled, translating into a market share of around $2 billion.
According to the company's CEO Per Eriksson, the company currently holds around 30 percent of the market share in Europe and sees huge growth prospects which will see it fighting to claim an even larger piece of the pie in the years to come. The company is also expecting future growth in the US market and is poising itself to enter the market should online gambling be regulated in future. Eriksson believes that an increase in mobile gambling, state lotteries and revenues from digital games located in brick and mortar casinos will all drive growth in future.
With the industry growing at around 10 percent annually, some wonder if NetEnt will be able to keep up with its staggering growth and success especially in light of the opposition to online gambling in certain countries. However Eriksson makes light of the subject comparing it to Rock 'n Roll in the 50's which people said would destroy everything, yet it has stood the test of time and he believes that online gambling is here to stay.