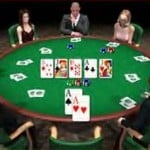 Everest Gaming Group is now owned by Mangas Gaming, the same French company that owns Betclic. This moves puts Mangas Gaming at the forefront of online gaming, establishing itself as a leading Player in all key areas of online gaming, including Sportsbetting, Poker, and Casino. With the addition of Betclic Poker, Everest Poker will become the first Poker community in France. Mangas will hold 60% of Everest while GigaMedia, a company listed on NASDAQ, will hold the remaining 40%.
Everest was one of the few gaming companies that was still using a proprietary Poker product that was developed in-house. Its sites were so well-known in Europe because they were tailored especially for the local market. Said Arthur Wang, CEO of GigaMedia, "Our strategy is to participate in the growth of this innovative and dynamic industry in Europe. We are glad to do it alongside the French's leading sports betting and online gaming group." Everest Gaming Group has been in operation since 1997 and staffs about 250 persons.
Mangas Gaming is the leading French sports betting and online gaming group. It has a presence in more than 25 countries and a client-base of 4 Million users.