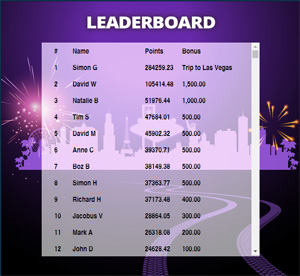 Warning:
Leaderboard Promotions often
just show the biggest spenders!
One of the things that makes playing at mobile and online casinos so great is the regular promotional events on offer. Prizes range from free money and casino credits to real world prizes like phones, TV's, fashion items and more. Not to mention the fabulous casino cruises and trips that are often up for grabs.
If you're playing and spending money anyway, online casinos promotions can be a great way to get something back. Still, not all promotions are created equal, and if you're not careful it can be very easy to get swept up in trying to win the grand prize, and you may end up spending more money than it's all worth.
This is especially true of Leaderboard type promotions. For example, one casino's current Race to Vegas promotion which is offering players the chance to win a 6 night trip to Las Vegas for two, with accommodation in a 5 star hotel, £2,000 in spending money and a helicopter tour of the Grand Canyon (including a champagne picnic) – all valued at £10,000. Sounds amazing right?
All you have to do to be eligible to win is opt in and play slots or other casino games in order to accumulate loyalty points. The higher your points, the higher up you'll be on the Leaderboard, and of course, the top player wins.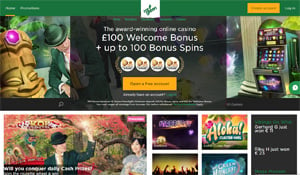 For a variety of promotions in various formats
Visit Mr Green Online Casino now!
Sounds easy enough right? And it is, but for any kind of chance of winning the top trip prize you have to be prepared to spend heavily at the casino, and generally on the high rollers can play enough to reach the top spot on the Leaderboard.
Let's examine the Roxy Palace promotion to see why. At the time of writing this article, Simon G was at the top of the Leaderboard with 227880 points. The casino in question's promotions page states that for every €10 that is wagered at the casino on Slots and for every €20 wagered on all Roulettes (excluding American Roulette) and/or Table Poker you will receive 1 Loyalty Point.
Of course slots are the game to play in this type of promotion because you get more points for your money. So let's assume that Simon G is playing slots, in order to get 227880 points at €10 per point, the turnover on his game play would be £2,278,800. And if we work on a 5% house edge, the losses are over £100k!
If you're a high roller or are prepared to spend enough to be classed as one, it may be par for the course on any given day, and that's fine. But high rollers are more the exception than the rule and spending that amount of money to win a £10k prize is really not worth it.
So while Leaderboard promotions can be a great deal of fun, they are generally the preserve of those who are able to spend large sums of cash. If you're not able to do so, then opt instead for promotions where your game play earns you tickets into a draw for a trip – these do exist and really serve to even the playing field a bit because you still stand a chance even though players who spend more will have more tickets in the draw.
Promotions are a great deal of fun, but don't get caught up in them "chasing" the prize, only to find that you've spent ten times its' value doing so. Play smart!