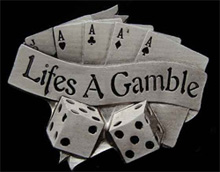 Most of us are acquainted with the world of casinos, online casinos, sportsbooks and poker room, and perhaps even the odd private bet, but what would you bet on and how far would you go to win if it really came down to it?
A quick search of the internet reveals some rather incredible and often bizarre stories of people who have bet on some pretty crazy things. Here we take a look at some of the weirdest wagers we've heard of:
Wagering a spouse
Back in 2007 Russian native Andrei Karpov was down on his luck while playing poker against Sergey Brodov. After running out of cash, he decided that using his wife, Tatiana, as a wager would be a great idea. He lost the bet and Tatiana when she found out about it and divorced him. Ironically, she ended up marrying Sergey, the man who won her and is reportedly to be blissfully happy.
Breast Implants
Generally if someone offered a man $100,000 to get breast implants, it would inspire incredulous laughter and most would dismiss it as pure insanity…But there is always the exception to the rule! Canadian, Brian Zembic is that exception. This crazy character won R100k when he bet that he get and keep breast implants for a full year in 1997. Fast forward and over decade later he still has them!
The reason for keeping the implants? According to Zembic, they have made him a great deal of money over the years due to media appearances and simply flashing them in public. He has also won other bizarre bets like one for $15,000 for living in a men's restroom for an entire month.
Standing in the sea for 18 hours
Phil Hellmuth reportedly bet his friend, former World Series Champion, Huck Seed a whopping $50,000 that he couldn't stand shoulder deep in the sea for 18 hours. Huck took the bet assuming that it wouldn't be all that difficult…he was horribly wrong and lost the bet when he lasted only 3 hours.
Weight-loss
Poker legend Doyle Brunson has lost pots of money betting on his own weight-loss, which never happened. Then in 2003 a group of gamblers offered 10:1 odds on a $100,000 stake that he would not be able to lose enough weight to weigh below 300lb. After years of failure they all figured it was a safe bet, but it wasn't! Brunson finally found his willpower, lost the extra weight and won $1 million.
Everything you own
You've probably heard the famous story of Ashley Revell who sold literally everything he owned and travelled to Las Vegas, betting every cent which amounted to over $136,000 at the roulette tables on the 50/50 red or black bet. Luckily for him he won, doubling his money. He did not however try it again!
These are just a few of the many bizarre gambling tales from the past few years, we have no doubt there will be more to come in future because if we've learned anything from gambling throughout the ages, it's that many people just can't resist a good bet.