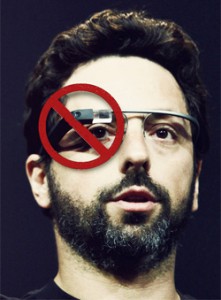 While both land based and online casinos are always on the cutting edge of technology and innovation in developing games and attracting players, when it comes to players using technology when visiting land based casino floors, they feel quite differently.
While camera technology has long been forbidden in most casinos across the world, several casinos across the US have begun to prohibit the wearing of newly launched Google Glass. These tiny eyeglass mounted devices are an exciting breakthrough in technology that are capable of allowing the wearer to take photos, film videos and surf the internet. Regulators on the other hand believe that these intelligent devices could be used by dishonest gamblers to cheat at the card tables.
In recent events, the New Jersey Division of Gaming Enforcement issued a directive ordering 12 of Atlantic City's casinos to prohibit patrons from wearing Google Glass. Bans of the same nature have also been instituted in casinos in Las Vegas, Connecticut, New Jersey and Pennsylvania, amongst others and patrons attempting to enter casinos wearing this type of eyewear will be asked to remove them and if they are not prepared to comply will be denied entry onto the casino floor.
According to casino security, Google Glass may be worn during poker games to broadcast the wearer's hand to a colluding group of players and even if they aren't used to cheat, their presence could compromise the safety of the casino or lead to perceptions that something underhanded was being planned which would undermine public confidence in the integrity of casino gambling.
Google weighed in on the news of the bans stating that they were carefully considering how they design Google Glass because new technology always brings new issues to the forefront. It further added that their "Glass Explorer" pilot program would ensure that users become active participants in shaping the technology.
While European based casinos have yet to implement these types of bans, it is probably only a matter of time until similar restrictions are imposed.
So if you're a Google Glass fundi, the only place you'll be able to wear these is while you're playing at online casinos. So once again, just another reason why online casinos are a more pleasurable place to play! For more on how to choose an online casino to play at, click here.