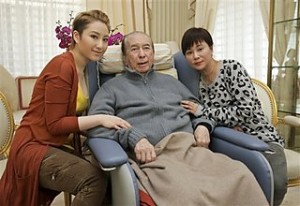 As 89 year old casino magnate Stanley Ho's condition continues to deteriorate, his three "wives" and 16 children fight to take control of his casino fortune and be the next to head up the family-run empire in Macau, Southern China.
According to Forbes Magazine, Ho's personal wealth is estimated at $3.1 billion, which is reportedly the largest in Macau's gambling industry. Ho not only holds a monopoly on Macau's casinos, many of these are listed on the Hong Kong stock exchange and vie against Las Vegas casino and resort giants such as the Sands Corp and MGM resorts.
Ho's business enjoyed a phenomenal rise thanks to his now deceased first wife, Clementina Leitao whose father was a prominent lawyer in Macau with connections to Portugal and Macau high society that ultimately assisted Ho to win his casino monopoly. Ho then married Lucina Laam and fathered children with two other women, Ina Chan and Angela Leong whom he refers to as "wives" although he is not married to either of them.
Now the billionaire is facing a public feud as the various branches of his family vie for control of his casinos, shares and businesses that run ferries, hotels, department stores, Macau's airport as well as horse and dog racing tracks. In a statement made on Hong Kong Television from his wheelchair which was wheeled out by his third wife Ina Chan, Ho stated that the matter had been resolved but Ho's lawyer reported that the casino magnate was pressured into the statement and intends to divide his estate equally. A suit has subsequently been filed to reclaim his assets, which is sure to engage Ho's and the various family members involved in a protracted legal struggle.
According to reports, this type of family feud and competing claims over fortunes has become one of the greatest dilemma's facing aging Hong Kong tycoons who have more than one wife or concubine. The question remains how long these dynasties which should be a legacy for generations will continue to exist once they are split up amongst family members.