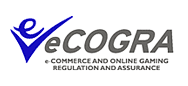 eCogra, the  independent player protection and standards body which has been in operation in the online casino arena since 2004 recently released their statistics for the 2010 year on disputes involving online gambling sites and the results look promising given the millions of online players playing at casinos across the globe.
According to the numbers, a total of 846 disputes were submitted to the organisation in 2010, a 10% increase from 2009.  67 of these involved casinos that were not accredited by eCogra and were therefore outside of the body's authority.  125 disputes were found to be invalid due to fraudulent claims, contained non-specific information, and were abusive or anonymous in nature.  The remaining valid claims and disputes amounted to 654 in total and concerned predominantly bonus issues (25 percent), cash-in issues (44 percent) and locked accounts (19 percent).  12 percent were categorized as 'other' and involved responsible gambling concerns, software fairness questions and spamming allegations. 
The report also revealed that a fraudulent player syndicate which had submitted complaints to the FGA in order to manipulate casino bonuses had been uncovered after a painstaking investigation which lead to participants in the scam being located and blocked from eCogra accredited casinos.
The overall finding of the report was that the level of disputes per eCogra accredited casinos was remarkably low considering the volumes of business transacted, with a typical accredited casino delivering an average of only 0.38 disputes per month throughout the 2010 year.
So to make sure that you have a good casino experience every time you play, visit an eCogra certified casino like Roxy Palace today.