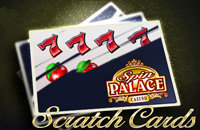 Scratch cards, "scratchies" or "scratch-and-win" games have been around for many years and at one time or another you've probably either received one as part of a promotion or bought one in order to try to win a prize. Traditionally scratch cards are printed on a cardboard sheet that contains a layer which is scratched off with a coin or hard object to reveal your prize.
Thanks to their simplicity and instant entertainment factors, scratch cards are one of the most popular forms of instant gambling. It is due to this fact that most online casinos like Spin Palace offer digital versions of scratch cards which you can purchase and play on your computer or mobile phone. How you might ask do online scratch cards work? We have the answers for you right here:
Online scratch cards are available in many casinos games lobbies, although from time to time you may receive one as a promotion. Standard online scratch cards enable you to select your bet level, the amount of money you wish to bet and the results are generated instantly via the game's random number generator.
To play a scratch card online, visit the casino lobby and select this type of game variation. The game will open on your screen and you will be required to select the size of the wager you would like to place by clicking up or down on the casino console to select the chip size. You will then need to enter the number of coins you want to bet and push the "start" or "play" button and a new card will then appear on your screen.
There are generally two game variations in scratch cards:
Some games only have a single area which is covered and you will not be able to choose where to scratch. In these games you will simply watch as the game automatically scratches the card to reveal the prize.
Other games feature cards with multiple scratch areas covered and you will then select an area or areas to scratch by clicking on them. The computer will then expose the selected area to reveal a prize (if any).
Within the above variations, you may encounter cards in which you can only win if a specific item is displayed and on multiple block scratch cards if three of the same numbers or symbol are exposed. Requirements differ from one game to another so make sure to check out the pay tables before playing.
In both versions of this game, if your card reveals winning code/s or prize/s, this will be displayed on the payout schedule and the winnings will be credited to your account. If you don't uncover a prize or winning code, then the game ends and you will need to purchase a new card to play again.
Not only do online scratch cards look great, provide instant entertainment and offer an environmentally friendly option to offline ones that consume large quantities of paper, but they also offer the opportunity for you to win big. They also offer a 95% payout rate which is higher than most lottery run versions which means that you'll usually get way better returns. So be smart and rather spend your money on playing online scratch cards instead!