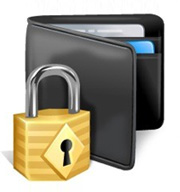 Every now and again we receive queries regarding eWallet account closures from online casino players who are unable to access their funds for some unknown reason. There is nothing more frustrating that settling in for a night of fun at an online casino only to find that you can't play because you can't access funds within your eWallet.
The initial reaction is usually panic and the feeling that one has been defrauded, and while this is quite understandable in a world where internet fraud is common, there is usually a legitimate explanation, especially when the eWallet provider has a good reputation or is a recommended provider within the online casino industry.
So if you find yourself in this predicament at one time or another, remain calm and follow our recommended steps to assist you in resolving the problem quickly and efficiently.
If your account is frozen
Oftentimes you may be able to access your account but are unable to transfer funds; this means that your account is frozen rather than closed. One of the main reasons for this may be due to the fact that you have reached your transaction limits for a certain period. You can confirm whether or not this is the case by contacting the customer support team for your given eWallet provider. If you have reached your transfer limit, then all you have to do is simply wait for the beginning of the new cycle. There is also the option of upgrading your account to offer higher transaction limits, but this should be done with careful consideration as this may be an indication of gambling addiction.
If your account is closed
Should you try to access your eWallet account and are unable to log in, first ensure that your username and password details are correct. If they are and you are not able to access the account, it may be closed. There are a number of reasons that an account may have been closed, although one of the most common is due to inactivity over a long period of time. The provider will regularly review accounts and close those that have not been used for long periods for security reasons. The best way to resolve account closure issues to contact the provider telephonically and undergo a verification process necessary to re-activate your account.
Another primary reason for eWallet providers closing player accounts is due to unusually large transactions being effected that do not fit the owner's past payment history. Once again, the account closure is to safeguard your funds and ensure that no fraud is taking place. Again the best method of resolving this issue is contacting customer support to resolve the issue and undergoing personal verification processes to confirm that the transaction is genuine and was issued under your instruction. Should you be expecting a larger than normal transaction to occur, for example as a result of transfers from a big win at an online casino, then inform the payment provider upfront so that they are aware of the situation and can inform the relevant departments on their side and avoid closing your account unnecessarily.
If your account appears to be the target of fraudsters
One of the most serious and urgent reasons for account closure is when an eWallet account appears to be targeted by fraudsters or seems to be accessed by someone other than its rightful owner. eWallet providers employ state of the art software which is programmed to recognise certain unusual behaviours, for example access via multiple IP addresses or from different geographic locations or unusual erratic transactions etc. and the system will then close the account immediately.
Sometimes legitimate account owners may be mistaken for fraud syndicates if they access their account while on holiday abroad or allow someone in a different country to access it on their behalf, only to find out that the next time they attempt to do so, the account is locked. In the event of travel plans, always inform your payment provider beforehand to avoid unnecessary closures.
Another precaution providers may employ is password monitoring and if you enter your password incorrectly a number of times the eWallet software will close the account. This is done to avoid account hacking by criminals so always ensure that you concentrate when entering your password and if you have forgotten it, rather go through the retrieval procedure than continue to guess and end up with a locked account. If you do find yourself locked out of your account due to entering your logins incorrectly, you will have to contact customer support and submit to long and stringent verification processes. These do take time so patience will be required.
While it is very inconvenient to find that your eWallet has been frozen or even closed, when attempting to resolve any issues pertaining to your account, always bear in mind that the security of your funds is of the utmost importance to both you and your provider and there are legitimate security protocols in place to ensure the safety of your funds. Happy gaming!