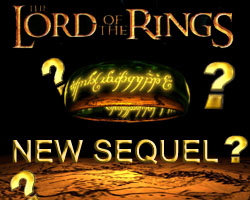 There have been recent rumours that there is a possibility that the next part in the Lord of the Rings (LOTR) trilogy will be released at Microgaming powered online casinos.
While there has been no official word from the software giant who holds the rights to develop the epic branded slots title, a cryptic message to players from the All Jackpots Casino manager Charlie Burton read that the casino's preciousssss new slot game was in the forges of the game-smith goblins and that it was being shaped into higher levels of game perfection and that all should stay tuned and be prepared to feel the power of the ring coming soon…
While it wasn't explicitly stated that the Lord of the Rings sequel would soon be released, the variety of clues provided in this message indicates that it will be. It was then followed up by a recap in the casino's September newsletter which stated that "an epic slot complete with new features will blow your mind preciousss!" If that's not Sméagol's "precioussss" then we don't know what is!
As yet the date of release remains a mystery but avid Lord of the Rings Slots fans should keep an eye out as we're sure it will be coming to a Microgaming powered casino near you soon!
In the meantime though you can play the current versions of The Lord of the Rings Slots at Royal Vegas Casino.