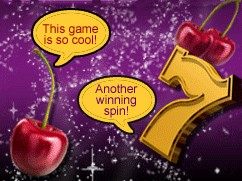 The internet has become one of modern day society's social tools, from hobby forums to Skype, Facebook and Twitter; we connect, socialize and share information with a few clicks of the mouse.
Online casinos have recognized the importance of the social aspect of gambling and many offer casino players chat rooms wherein they can meet other players across the world and chat about the game they are playing or anything else for that matter while enjoying their online casino experiences. Many online friendships are forged in these types of environments and even if you don't make friends, it's sometimes nice to be able to share a comment or two as you play.
Using casino chat rooms to your advantage is possible when playing online, especially if you are new player and if you adhere to the etiquette of the chat room and respect those enjoying its facilities you will find that many seasoned players are able to help you out with any questions you have regarding the casino or the particular game you are playing and if you're lucky you may just get a few insider tips from those with vast experience.
While you can always ask a casino's customer support team for assistance if you get stuck, you may feel more comfortable seeking help or advice from other players.
If you're new to online casino chat rooms, don't be nervous, just follow these tips and soon you'll be enjoying them in no time!
Make an effort to read the specific rules and guidelines of the chat room you would like to join, some topics are not allowed at chat rooms and you'll do best to stay within the parameters set out for each member.
Follow the rules, don't use profanity if it is forbidden and chat in the language specified, most casinos offer chat rooms for each language they operate in.
Do not provoke, anger other players by chatting about inappropriate topics and don't mock or belittle anyone, because everyone started out as a newbie at some point.
Select a chat room for your favourite casino game genre as you'll have more in common with these players than others with different interests.
Remember also that safety is still a priority and you should always keep the following in mind:
Do not provide too much personal information in a chat room, never hand out contact or address details.
If you arrange to meet someone you've met in a chat room in person, never go alone and ensure that you meet the person in a public place.
Do not purchase any "casino secrets" from players trying to sell these to you…there is no legitimate information or casino game system that you can't find for free online. Generally anyone selling anything like this is a scam artist and should be avoided.
If you follow this advice you will find that your online casino chat room experience is a fun-filled, rewarding one. Enjoy!