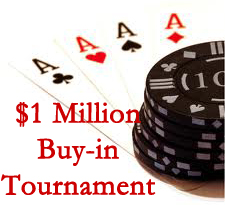 Earlier this week World Series of Poker officials announced that 22 players have pledged their commitment to a $1 million buy-in for a WSOP tournament, making this one of the most expensive poker tournaments in history but also one of the most lucrative with the top prize yielding $8.89 million at just 22 players! This is a staggering $173,000 more than the recent German winner, Pius Heinz earned for his main event victory last month.
According to WSOP spokesperson Seth Palansky, an additional seven players join the tournament, this would put the prize money above the $12 million mark which incidentally is the highest recorded poker win ever, claimed by Jamie Gold after defeating 8,772 other players in the no-limit Texas Hold'em main event held in 2006.
The $1 million buy-in for the latest tournament includes a charity donation of 11% but does not include the usual 10% rake that the WSOP usually takes for hosting the event. Instead Cirque du Soleil founder Guy Laliberte will be organising the tournament on behalf of his charity, One Drop which is a Montreal based non-governmental organization.
According to those in the know, committed entrants include some of the most famous names in poker and the gambling industry including Daniel Negreanu, Tom Dwan, Johnny Chan, Jonathan Duhamel, Bobby Baldwin (MGM Resorts International exec and 4 time gold bracelet winner) as well as billionaire Treasure Island casino owner Phil Ruffin.
With this kind of a line up as well as such huge sums of money at stake, this will definitely be one poker tournament you don't want to miss!