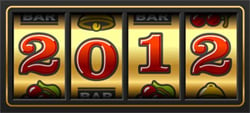 New Year's Resolutions are generally made with a great deal of thought and sincerity but no matter how well intentioned we are, they seem to be made to be broken! There are however some resolutions that you should take seriously, especially when it comes to gambling habits and what better time to consider these than at the beginning of 2012.
With that in mind we have set up a few gambling related resolutions to add to your list as a guideline for your online casino game play this year:
Allocate a bankroll and stick to it: Allocate a monthly allowance for entertainment and break it up over the number of days you usually spend playing. Also, make sure this is the amount of money you can afford to lose. If you win then you'll have extra to play with but don't be tempted to dip into money for other expenses thinking you'll win it back. Once your bankroll for the day/week/month is finished, stop playing or play for free instead.
Learn to play the games before you play for real money: The more you know about each game, the more you'll lower the house edge against you when playing. So commit to learning basic strategy for games like Video Poker and Blackjack, learn which are the most favourable bets in Craps and select your slot machines according to the type of game play you prefer so that you can get the most out of every game you play.
Keep a portion of your winnings: If you win, don't play all of your newfound money back to the casino, rather separate a portion of it out and treat yourself with it.
Don't throw good money after bad: Chasing losses is the quickest way to blow your bankroll and get into debt. If you're losing, quit while you're ahead and you'll be able to play another day.
Don't play on credit: It is NEVER a good idea to play on credit card cash advances or loans, interest rates on these are high and you'll end up losing more than if you only play when you have the money to do so.
Don't drink and play: Enjoying a drink while gambling is often enjoyable but don't drink so much that your judgement is impaired, it will only lead to emotional rather than rational decisions and that can cost you money.
Don't buy into scams: There are no "winning systems" or "insider secrets" that you should ever pay for under any circumstances.
All of the best for 2012! Remember to always play responsibly at trustworthy online casinos like Ruby Fortune Casino.