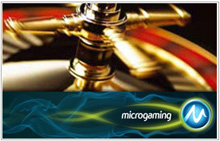 If you're a fan of Microgaming powered casinos and Live Dealer Games, then Microgaming's recent announcement of its latest state-of-the-art "Diamond Edition" Live games is something that will really excite you because they offer a more lifelike casino experience than ever before!
In addition to the existing High Definition video streaming offered by the Live Dealer Games, Diamond Edition games offer redefined graphics that will transport you right into the midst of what feels like a real casino with objects so realistic that you can reach out and touch them! Another great addition within the Diamond Edition Live Dealer games is improved and more detailed statistics which will not only help your game strategy but also increase your chances of winning big!
The Diamond Edition set of games also offers the all new multi-player Roulette game where you'll be able to see other player's bets on the table as you play against one another and the house in real time. When it comes to virtual gambling, it doesn't get better than this!
According to a Microgaming spokesperson, the Diamond Edition games suite was conceived due to the noticeable trend towards multi-player games at various Microgaming powered casinos and now players have an even greater opportunity to enjoy the advantages of this function in a live dealer version of Roulette.
Just new to the market, these games are already enjoying huge popularity across the various Microgaming casinos like Ruby Fortune Casino and looks set to be a HUGE hit with all players.