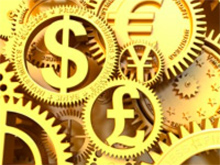 Most online casinos offer their services and casino games to players living in a number of countries across the globe. This means that these players earn different currencies and usually prefer to play in their local currency in order to avoid losses due to fluctuations in exchange rates as well as confusion that may arise in dealing with a currency that is not familiar. For this reason, online casinos offer a variety of currencies to players.
When playing at an online casino you are able to select the currency of your choice, even if the selected currency is not your local one, but it is important to make the correct selection from the start as all of your transactions and game play will take in that currency.
While you are able to change your gambling currency after you have selected one in the sign up process, you will have to submit a request to the casino's customer support team. You will also usually be required to clear any pending casino bonuses in your original currency choice as well as withdraw the balance remaining in your account. Some online casinos will allow you to keep your credits but if your newly requested currency is of a higher value than your previous one, your credits will be adjusted accordingly.
Once the account details and admin have been sorted out the online casino staff will then be able to set up your newly requested currency. As you can see this is quite a process and it is far easier to select the correct currency from the start instead of going through a great deal of admin before you can play again.
There a definite advantages to selecting your local currency when playing online including familiarity, not losing out due to exchange rate fluctuations and avoiding additional bank costs. So remember when signing up at an online casino to always choose the correct currency from the start.