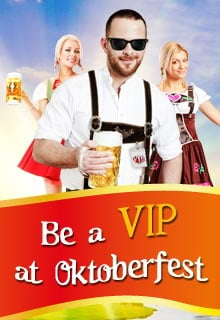 The Fortune Lounge Group of casinos includes favourites like Royal Vegas, 7 Sultans and Platinum Play online casinos. Not only are they known for their excellent casino software and all round entertainment offering, but also for their regular monthly mega promotions.
In July the Fortune Lounge Group's big promotion centres around the upcoming Oktoberfest celebration, one of Europe's cultural calendar highlights, with the opportunity to win a VIP trip of a lifetime to be a part of the Oktoberfest in Germany.
The promotional tagline reads as follows, "Take up our challenge and you could win an all-expenses-paid VIP trip to Oktoberfest! Soon, you could be drinking some of the tastiest beers in the world, eating a variety of traditional foods, and rubbing shoulders with other casino VIPs". Sounds like fun doesn't it?
The promotion will take place from 18 July 2012 until the 21st of August 2012, with amazing prizes up for grabs including four all expenses paid trips to Oktoberfest in Munich, as well as Diamond status for life for players who land themselves in 5th to 7th positions on the leader board, Diamond status for a year for those who finish in 8th to 20th places as well as a share of 1000 casino credits each week!
In order to be eligible for this promotion and the opportunity to win these amazing prizes, all you have to do is participate in the four round challenge at your favourite Fortune Lounge online casino. Simply follow the instructions in weekly mail or consult the promotional guide when you login to the casino software for more on how to qualify for the various rounds and advance so that your name is entered into the lucky draw.
An overview of the promotion has already been published. Stage One runs from the 18th of July until the 24th of July 2012 and you will be required to wager a minimum of 100 credits on the Quest for Beer video slot to enter this round's lucky draw. The winner will receive a share of the weekly 1000 credits prize and progress to round 2 which will be held from 26-31 July.
Round Two offers the opportunity to take part in a Thunderstruck II tournament with a prize of 1,500 credits up for grabs as well as advancement into round 3. Alternatively players can pay 200 credits to enter the third stage of the promotion which runs from 9-14 August.
In Round Three you'll be tasked with wagering a minimum of 200 credits on the Steinfest video slot which is another beer themed slot. For each day that you wager during round 3 you will receive a ticket into the lucky draw as well as the opportunity to win a share of 2,500 credits as well as entry into round 4.
Round Four takes place from 16-21 August 2012 and you'll need to wager on your favourite games to earn as many reward points as possible and those who earn the most will enter into the final lucky draw to win the trip, diamond status and a share of the promotional credits.
Once again this an action packed promotion with the chance of HUGE rewards which you just can't miss! So make sure you're part of it!