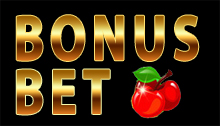 The various online casinos are powered by a number of software providers, the specific provider determines the number and type of casino games offered by a casino as well as the features offered in these games. Many online slots offer special bonus features, some Cryptologic slots in particular have what is called the Bonus Bet which is featured in games like Wonderwoman and Batman video slots.
The Cryptologic bonus bet offers players the opportunity to place larger wagers than usual as well as the chance to win more than they usually can in non-bonus feature games. In these Bonus bets, the total number of coins that you bet on a spin is added to the bonus bet. Cryptologic powered online slots with the bonus bet feature have 50 paylines and you may only place a bet of one coin per line on each spin.
This effectively means that you can wager 50 coins in the standard game and when taking advantage of the bonus bet you are able to bet an additional 10 coins, which pushes the maximum bet to 60 coins.
To automatically wager on all paylines and add the bonus bet, all you have to do is push the "Bonus Bet" button on the game console.
You are also able to select different coin denominations when wagering, these start at as little as $0.10 and range up to $200 per line.
In some online slots offering the Bonus Bet feature, you are only able to access some special bonus features if you have selected the "Bonus Bet" feature, meaning that in addition to being able to make an extra wager you'll also have access to special bonus features as an additional perk! That said though, activating the Bonus Bet doesn't necessarily guarantee that special features will be activated…you'll still need to obtain the specified number of scatter symbols in order to trigger the feature. It is also important to keep in mind that Scatter payouts are not generally included in the Bonus Bet feature and you'll only be paid out 50 times the line bet rather than 60 times like other payouts when the Bonus Bet is in play.
An additional advantage however is that in some games, like the Batman slot, once you have wagered the Bonus bet, an additional Wild symbol may randomly appear, increasing your chances of winning even more!
So next time you play at a Cryptologic powered casinos like Intercasino, don't forget to check out the Bonus Feature for even more action and rewards.