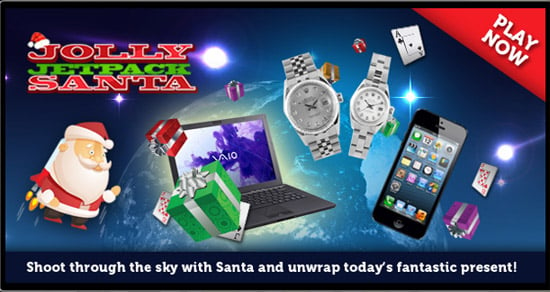 InterCasino's latest Christmas Promotion is out of the world…literally! Visit the casino site and you'll find the Jolly Jetpack Santa promotion begging you to take a peek as they reinvent old Festive Season traditions with updated versions. They even offer you a new take on the age old Christmas Carol, which now reads: "Dashing through the sky, in a rocket-powered sleigh, over the moon he goes, laughing all the way!"
Santa is also decidedly more high-tech these days, and comes complete with his own jet pack and follows you from outer space all the way down to a magical, snow covered Christmas scene that is packed with holiday surprises in format reminiscent of an advent calendar. Each day of December carries its very own surprise for you to unwrap and according to those in the know, the prizes will just keep getting better as the month progresses and you will have the opportunity to win anything from free cash and bonuses to state of the art electronics and even Rolex watches.
To date, the 1st of December offered a 100% deposit bonus on any deposits between $10 and $100, the 2nd of December gave players $5 worth of free spins on the new Armadillo Artie slot, the 3rd of December offered 1 wagering point for every 10 wagered on DC Comic themed slots for a deposit of a mere $20 and players who accumulated 100 wagering points received $30 free credits automatically. The 4th of December saw players who deposited $25 or more being awarded a special mystery bonus. Like we've said, the gifts will continue to get better as the month progresses! But don't try to peek at promotions before their date, because you'll receive a quick slap on the wrist and a "Hey naughty! No peeking allowed" message.
This promotion is running at InterCasino from the 1st until the 25th of December and VIP members will be give special offers on some days. Should the offer entail a competition or prize draw, winners will be notified within two working days either telephonically or via e-mail. Bonus money credited to the players account will be subject to a 30 day period to meet the wagering requirements. Each promotion may have its own set of promotional terms and conditions so make sure you read these before accepting them.
So if you're in the mood for some Festive cheer and loads of giveaways to make your days this December, then head on over to InterCasino now…there has never been a better time to play!