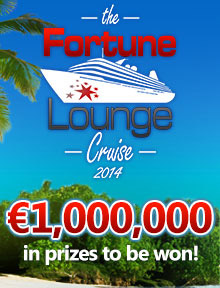 The Fortune Lounge Group has just announced the launch of its annual Cruise Promotion wherein 50 lucky players stand the opportunity to win double tickets for this luxurious 7 day cruise aboard the magnificent Oasis of the Seas Caribbean Cruise liner as well as prizes to the value of €1,000,000!
Instant prizes include everything from Ralph Lauren beach accessories like beach bags, sunglasses and beach towels to Louis Vuitton passport covers, iPad Air's, Kindles, Canon Digital Cameras, Panasonic Camcorders and more.
Sound like a dream come true? Then make sure you visit casinos Platinum Play and Royal Vegas like enter in one of the many available ways to be in line to win.
Lucky Draws
Casinos in the Fortune Lounge Group will be hosting lucky draws that are open to all on weeks 1, 4, 9 and 12 of the promotional period. You will be eligible for a ticket into the lucky draw for every minimum promotional deposit you make. These lucky draws have double cruise tickets and €15,000 in prizes to give away.
Points Accumulators
Points Accumulator events will take place on weeks 2, 5, 7, 10, 13 and 15 of the promotional period and you can take part in these to boost your points as much as possible while standing in line to win double tickets on the cruise as well as €10,000 in prizes.
To stand in line to win with Accumulator points all you have to do is play your favourite casino games in order to earn as many Rewards points as possible. For every 1000 rewards points you earn you will receive one entry into the lucky draw.
Cruise Cards
Cruise Cards will be open to all in weeks 3, 6, 8, 11, 14 and 16 of the promotional period and offer a double ticket on the Fortune Lounge Cruise as well as €10,000 in prizes.
To be eligible for the Cruise Cards prizes all you have to do is play your favourite casino games and earn Rewards points. For every 100 Rewards points you get you will earn a stamp on your Cruise Card and once you have 10 Cruise Card stamps you will receive an entry into the week's lucky draw.
VIP-only Leaderboard
As always, the Fortune Lounge Group takes special care of their VIP's and those taking part in the promotion at participating online casinos will be invited to take part in the VIP-only Leaderboard which runs for eight 2 week periods throughout the promotion. This section of the promotion offers double tickets on the Fortune Lounge Cruise.
As you can see, being a highroller and achieving VIP status definitely pays and gives you more opportunities to win, so it's definitely something to keep in mind and work towards when playing online.
The next 3 months are going to be packed with action and fun at Fortune Lounge Casinos, and with prizes like these up for grabs there's never been a more exciting time to play. And if you're lucky enough you could find yourself aboard the next Fortune Lounge Caribbean Cruise.