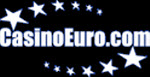 Yours4money.com brings you exclusive news about CasinoEuro right from the horse's mouth. This new promotion, which was launched on May 4th, has not yet been made public on their site, but in true Yours4money.com fashion, we are bringing it to you hot off the presses.
In the upcoming summer months, Casino Euro will have achieved a milestone and will have its 500,000th Player walk through its casino doors. Casino Euro will celebrate this momentous occasion by rewarding its loyal Players. If you are the 500,000th person to deposit and play at their online casino, you will receive €10,000 in free Slots spins. This promotion will continue CasinoEuro finds its 500,000th Player. Terms and conditions apply so be sure to speak with a Customer Support representative to get all the details.
Register now at Casino Euro to take advantage of this amazing and quite possibly once in a lifetime opportuntiy.