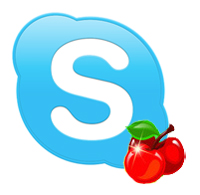 The Fortune Lounge Group recently announced that four of its online casinos brands, namely Royal Vegas, Platinum Play, 7 Sultans and Vegas Palms casinos now offer their players the option of communication with customer support staff via Skype.
This means that the next time you have a query or need assistance with something, instead of phoning or e-mailing customer care, you'll be able to logon to Skype and receive answers and assistance quickly and easily.
According to Wim Ochse, Head of Fortune Lounge's Customer Support, the introduction of Skype to their group of casinos is an industry first, with no other casino group currently offering Skype as a one-click contact point. He further added that due to the fact that support staff assist players who are already connected to the internet on their computers or mobile devices, Skype is an excellent option which allows players to communicate with the casino staff with ease.
In addition to its latest Skype contact offering, the Fortune Lounge Group continues to offer players support via e-mail, telephone and live chat. Skype support is currently only available to English speaking players but the group has stated that it may introduce the service in a variety of other languages including French, Spanish, Italian, German, Greek, Dutch and Portuguese, depending on the demand for it going forward.
In the meantime though, players of all languages can connect to the English speaking support staff on Skype and request to be put through to support staff in their native language.
This is yet another step in the Fortune Lounge Group of casinos quest to make your online gambling experience with them one of the best and most streamlined possible. They get two thumbs up from us.