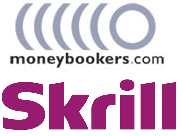 Europe's largest e-wallet and online payments providers, Moneybookers will soon undergo a rebranding exercise that will see its customer facing brand change to "Skrill" by the end of the year. 
Yes, it's a really horrid name, even if it is short for "Skrilla" which is a commonly used slang word for money, but the new brand promises an enhanced offering that will ensure ease of use and increased functionality for its users when shopping online and allow for increased flexibility, choice and peace of mind for both consumers and retailers.
The fundamental trustworthiness and business principles of Moneybookers Limited with continue to be the basis of the new brand but offer increased services to over 15 million existing Moneybookers account holders and 70,000 merchants globally.
In 2010 Moneybookers was voted the fastest growing private equity funded organisation in the UK by both Deloitte and The Sunday Times. According to sources, the company's rapid growth is the reason for the name change and rebrand and according to Martin Ott, co-CEO of Skrill Holdings, the company aims to become a "verb" in the minds of the consumer, so just as people "Google" or "Skype", they will be able to "Skrill" when shopping online.  This verb branding concept is one which Google and other major brands have been determined to clamp down on for fear of risking their trademarks.
Time will tell if Skrill achieves this goal, but with the reputation of Moneybookers as a firm base and large improvements ahead the new brand is sure to enjoy continued success and remain a firm favourite amongst European online casino players.