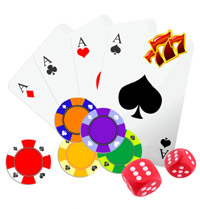 Casino games are a lot of fun to play, making online casinos very popular entertainment destinations for millions of people across the globe. We all know that casinos are in the business of providing entertainment but more importantly they exist to make money.
This means that they employ software designers to develop games that are engaging, entertaining and keep you coming back for more. When it comes to online slots the games are rich in colourful graphics, sound effects and features, and table games like roulette, blackjack, craps, baccarat and poker are designed to make you feel like you've stepped into a real casino, some even offer live casino dealers to further enhance the experience.
Let's face it, playing at an online casino is the most fun you can have at home, other pastimes like watching TV or movies, these just don't compare in the level of entertainment on offer.
Even though many people say they play these games purely for pleasure, everyone still does so in the hope of winning. And with every game there is a chance of winning, no matter how small. But moving casino games from being purely a pleasurable pastime into a profitable one, does take some knowledge on the players part. Here are a few important things to keep in mind when attempting to do that:
Payout percentages, bonus offers and odds on games differ from one online casino to another, so always research the places that you play at to ensure that you are getting the best odds possible.
Each type of casino game has different odds too. Video poker generally has the lowest house edge of all the games on offer at casino, so if you're really only bent on winning it is your best option. Games like blackjack and poker can also make use of strategies to optimize your chances of winning.
If you're not playing purely to win but would like to maximize the chances on a game you love then makes sure you research variations in your favourite genre, you'll be surprised how much the odds can differ!
Learn the best game play strategies for the game of your choice and stick to them as far as possible, these will go a long way in helping you to win more often and sustain a bank roll that will keep you playing for longer.
Online Casino Tournaments generally allow for a lot of play time for a minimum buy-in, plus there is always the opportunity to win cash prizes along the way.
While it is possible for casino games to be profitable at times, always remember the reason for playing should be fun. You won't always see a return financially but having fun can be "profitable" to your mental and physical well-being, and if you've enjoyed your leisure time at a casino, then in a way you're still a winner even if your bank balance doesn't reflect it. So by all means, play and try to win, but above all, enjoy yourself!