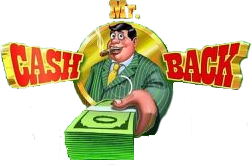 Most quality products carry a money-back guarantee, but imagine if your favourite online slot offered the same?
While the concept may seem a little too good to be true, leading casino software giant Playtech recently unveiled this ground breaking concept in the form of their new aptly named Mr Cashback slot machine which became an instant hit with players across the globe. Not only is Mr Cashback packed with exciting multipliers and bonus features as well as a jackpot prize of 7,500 times your wager, but in an industry first, this slot which is solely available at Playtech powered casinos, also offers players the opportunity to win their money back on non-winning lines.
Yes, you read that right! The game is programmed in such a way that if a specific payline doesn't payout within fifty consecutive spins you'll be refunded 50x the bet line, putting some of your hard earned money back in your pocket and ensuring your satisfaction with every game.
According to a Playtech representative, the group is committed to continually pushing the limits in game development and providing casinos powered by its software with unique and entertaining new concepts and features within the games on offer. Given the popularity of the cash back feature, it would seem that players are very appreciative of the company's efforts and let's face it, who doesn't enjoy getting money back that you thought you had lost!
So don't delay, play the new Mr Cashback Slot today and even if you don't win on every spin, you'll still be winning with cash back rewards!