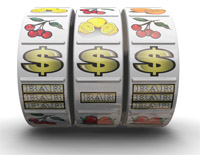 In today's world nearly everything can be customized from furniture to cars because more and more manufacturers are realising that not everyone is or likes to be the same things. When it comes to online casinos, the concept of customisation is the same and leading software providers like Microgaming are continually adding more and more features to their games to ensure that players are able to enjoy their gaming experiences to the fullest by tweaking the various aspects of their favourite online casino games to ensure that they are just the way they like them.
If you didn't know you could adjust the settings of your favourite online slots, you definitely can and we've compiled a list of options available to you so that next time you play you can do it in your own way!
Screen Size
Before you access any of the games in a casino you can determine whether you would like them to appear in full screen mode (which is generally the default) or on a minimised screen. Many people like a minimised screen so that they can perform other functions on their computers while playing at an online casino. Generally online slots are not as enjoyable on the minimised screen version due to the detailed graphics within these games that need to be accommodated but card games and video poker appear just fine in the smaller screen mode.
Sound
Some people love the sounds that online casinos employ to set the atmosphere of the casino, making it feel like you have just walked into a land based venue full of people and excitement, not to mention the sounds of each game as the reels spin and the bells sound as paylines are hit, others of course could do without the noise. While we feel that the sounds only add to the enjoyment of the games, Microgaming casinos do offer you the option to control the sounds within the casino and games in the form of three distinct components:
Background Sounds: This is the tune that you'll hear when the reels of your slot are idle.
Game Sounds: This is the sound the spinning reels make.
Win Sounds: These are the special bells and whistles that go off when you hit a winning combination within the slot game.
You can elect to disable any or all of the above if you choose at any time and should you wish to add them back again later do so with a simple click.
Reels Spin Speed
If you've ever wished you could speed up the pace of slots game play, you can! This option is available in "Options Menu" once you've opened the slot.
In the default setting the slots reels usually come to a stop one at a time, increasing your anticipation of whether your combination is likely to be a winning one or not and generally adds to the excitement of the game. You can however enable the "Quick Spin" option where all reels stop rapidly and show the result almost immediately. This will speed up the pace of the game for those with little time or patience, but be aware that you'll probably end up spending more money more quickly in this mode and may not get as much enjoyment as you should out of the game.
Regular or Expert Mode
The default setting on Microgaming powered slots games is the "regular mode", you are however able to activate the "Expert Mode" within the games settings. In doing so, you will be presented with a number of auto play options with which to customise your "auto play" settings. In regular mode you can select 5x or 10x autoplay but in the expert mode you can select the exact number of spins you would like on autoplay and how to stop these (ie. Only after the set number of spins is complete OR after a predetermined amount is won).
As you can see from the above, many of the main aspects that comprise your favourite slot are adjustable according to your personal preferences, giving you more control of how you experience and play your favourite online slot. While we generally find that the default settings are the most enjoyable it's always great to be able to make a game your own and eliminate anything that detracts from your enjoyment. So next time you're at a Microgaming powered casino like Ruby Fortune, why not do a little customization of your own. Enjoy!