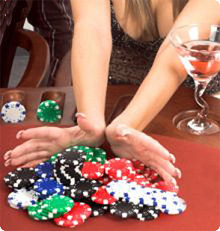 When it comes to casinos and gambling it seems that everyone has a story and some are pretty weird and wonderful. Here we look at some of the most bizarre bets and events that revolutionized the history of casinos and gambling as we know it.
William Lee Bergstrom's winning streak
While old school Las Vegas casinos traditionally only accepted "small"" bets with the aim of slowly and steadily capturing player bankrolls, casino magnate and owner of the Horseshoe Casino, Benny Binion revolutionized Las Vegas casinos by allowing patrons first bet to be their only limit. This meant that if a player wanted to bet $100k on his or her first hand of blackjack that was acceptable but stakes could not be raised any further later in the game.
This novel approach to betting was something one seasoned gambler, William Bergstrom wanted to take advantage of. So in the mid 1980's Bergstrom visited the Horseshoe casino armed with a suitcase filled with $777,000 and headed straight to the Craps table and bet every cent on the Don't Pass Line. He won the bet and began what looked to be one of the most amazing hot streaks in history.
Bergstrom returned to the tables and later doubled a $590,000 bet, followed by further doubling a $190,000 wager and to top it off added another $90,000 to his casino wins. With so much cash added to his bankroll Bergstrom got caught in the age old trap and didn't know when to stop.
The next day he returned to the Horseshoe Casino with one million dollars in cash, wagered it and lost. Tragically three months later he wagered his life and lost a game of Russian roulette.
Rags to Riches and back again
In the mid 90's a down and out Las Vegas resident claimed his $400 social security cheque and headed to Treasure Island Casino.
According to those in the know, the man's hygiene was less than savoury and nobody wanted to play at the same table as him, nevertheless without using even the slightest basic blackjack strategy he won $1 million. Instead of walking away the man of course continued to play and at the end of his day left Treasure Island $400 poorer.
Johnny Moss makes a knockout bet
Legendary poker player Johnny Moss met a man in a bar who claimed to have never lost a fight in his life. Moss's friends decided to get in on a little impromptu action and bet Moss that he couldn't knock the man out and even offered him 15 to 1 odds.
Being a gambling man, Moss couldn't resist and ended up throwing a punch at the self-proclaimed fighting expert. Of course Moss lost the bet and even sustained broken bones and needed a trip to the hospital but didn't regret his decision in the least, because as he stated "15 to 1 was too good to pass up".
Putting it all on red or black
In 2004 Ashley Revell from the UK sold everything he owned from his car to his clothes, he also emptied out his entire bank account and poker bankroll. In total his life savings amounted to $136,000.
He then headed to Las Vegas and in a ceremonious event put it all on the line with a single spin at the Roulette table. With the spin of the wheel Ashley immediately placed his bet on red and seconds turned into days as he and the crowd around him waited with baited breath to see the outcome.
The Roulette ball landed on Red and Ashley went home to England with $272,000. Unlike other gamblers however, instead of gambling his winnings away as many had predicted, Ashley invested it in his very own poker site and hasn't looked back
The largest novelty bet of all time
These days you can bet on almost everything from American Idol winners to when the human race will discover life on other planets. These types of novelty bets are often bizarre and definitely entertaining, but usually are long shots and very few professional gamblers win on novelty bets on a consistent basis.
There are however, always exceptions to the rule and in 1989 an unknown Welshman placed a £30 wager on a number of events that he believed would take place before the year 2000 at his local bookmaker. His predictions and the corresponding odds were as follows:
U2 remaining together as a band (3 to 1)
The knighting of Cliff Richards (4 to 1)
The Eastenders soap opera continuing to be aired on BBC (5 to 1)
Popular soap Neighbours continuing to be aired on British TV (5 to 1)
Home and Away continuing to be a live TV show (8 to 1)
The odds on these bets all taking place were a whopping 6,479 to 1 and once the millennium was brought in the lucky Welshman claimed his £194,400 from his local Ladbrokes. This was the largest novelty bet and win of all time.