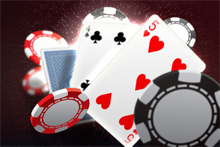 Online casinos offer a wide variety of traditional casino games from blackjack to craps as well as many modern variations of these like Caribbean Stud.
If you're a seasoned player, playing these types of games repetitively can become a little boring. Casinos have recognised this fact and as such have added features like side bets which add more action and excitement to classic games. In general side bets can be made at a fraction of the wagering cost of normal bets in the main game. For example, blackjack tables may have minimum wagering requirements of $5, $25 or $50 per hand but you will also find that the side bet is available at $1.
You may be wondering why online casinos offer these types of bets and the reason is quite simple, the more action they can offer on their various games, the more players they will attract and the more money they will make. This is also why you'll find much advice cautioning players against side bets, but that said, not all side bets are created equal and like with all betting options across games, some bets offer better odds than others!
Another advantage of the side bet is that because they are generally rather small bets they can help you to add a little excitement to your game when you're getting bored without costing you too much if you lose.
Here we discuss a few frequently encountered side bets that you may consider next time you play online:
Side Bets in Craps
Craps is a game with a plethora of betting options so it may seem absurd that side bets would be added to this game, but occasionally they are. The most well-known and popular side bet is known as the Fire bet. In this bet players are paid if a shooter is able to hit four of more different points before losing the dice (by rolling a seven or crapping out before a point). Each point is unique, so if the shooter hits a 4 and has a 4 point on their next "come" roll and hits a 4 again, then this will only count as one point made. If you're betting the standard $1, the following payout rates are applicable:
Four Points Made: $25
Five Points Made: $250
Six Points Made: $1,000
While these payouts may seem generous, always keep in mind that this game has a house advantage of over 20%.
Side Bets in Blackjack
When it comes to blackjack the most regularly encountered side bet is that of Super Sevens. This game is very simple to play and all you have to do to get in on the action is place a $1 chip on the designated Super Sevens spot. You will win this bet if you receive sevens in your next hand, beginning with the first card dealt.
Payouts generally are as follows:
If the first card is a Seven – 3 to 1
If the first two cards are Sevens – 50 to 1
If the first two cards are suited Sevens – 100 to 1
If the first three cards are Sevens – 500 to 1
If the first three cards are suited Sevens – 5000 to 1
The house advantage in this game is generally around 12% but may vary according to the rules and number of decks used in playing the game.
Side Bets in Let it Ride Poker
Occasionally you'll find a Let it Ride poker table that allows a three card bonus bet. This type of bet is similar to the Pair plus bet in Three Card Poker games.
Players are paid according to the cards in the initial three card hand dealt and does not include the two community cards dealt by the dealer hereafter. Pay tables for this game are as follows:
Mini Royal Flush (ie Ace,King and Queen of the same suit): pays 50 to 1
Straight Flush: pays 40 to 1
Three of a Kind: pays 30 to 1
Straight: pays 6 to 1
Flush: pays 3 to 1
Pair: pays 1 to 1
When the above paytable applies the house advantage is generally in the region of 7% on this type of bet. For more information on this game and to find out when to Let it Ride while playing click here.
Ready to play? Find these side bet options and more at Spin Palace Online Casino now.