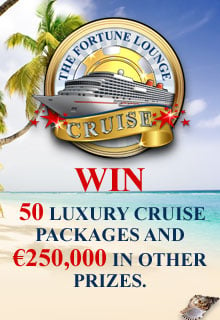 The Fortune Lounge Group of Online Casinos which consists of popular player favourites like Royal Vegas and Platinum Play casinos never misses a beat when it comes to monthly promotions and their calendar is action packed all year long.
November is no different and marks the start of a four month long Fortune Lounge Cruise Extravaganza which is their 6th cruise event, showing just how popular these promotions have become.
It also means that from the 1st of November until the 28th of February they'll be giving away 50 double luxury Caribbean cruise packages and €100,000 worth of final on-board cash prizes.
There will also be weekly giveaways to the total value of €150,000, so this is definitely a promotion you don't want to miss.
Each month has its own specific title, for example November is entitled "Cruise Card – Earn chips to win" and to take part all you have to do is the following:
Each week for the month of November you'll receive a new card to complete.
Depending on the week, you will be able to earn chips either for depositing or the wagers that you make.
You will be required to earn a chip for each block on the card in order to complete it.
Once you have completed each row on the card, you will be entered into a lucky draw for the prize indicated at the end of that specific row.
Some of the cards will offer free chips to assist you in completing the card faster.
You have one week (7 days) to complete a card.
Once you have completed Row 4, you will gain entry into the lucky draw which offers you the opportunity to win a double ticket for The Fortune Lounge Cruise.
If you complete the card before the 7 days are up, you will get an additional card.
Each additional completed card will earn you extra entries to win more prizes.
You will receive a new card every Thursday, starting from the 1st of November.
The other months also have their own unique games, there is the Pick-A-Gift on Festive Beach promotion in December, in January Spin-To-Win on the Island Style reel and keep a lookout for February's Mystery Promotion.
In addition to the grand prizes of the 50 double luxury Caribbean cruise packages, other prizes that are up for grabs in the coming months include Fashion accessories and Watches, iPads, potentially lucrative Free Spins, casino credits, Rewards points and deposit match bonuses.
There is a whole lot of winning to be done in the next 4 months, so don't delay, get on over to Platinum Play or Royal Vegas online casinos now and you could be the next lucky winner!